Back
V&A commissions Zarah Hussain: limited edition print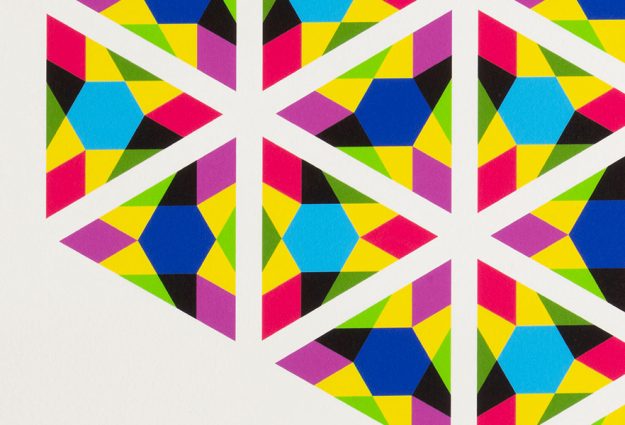 Zarah Hussain, one of Essex Cultural Diversity Project's past commissioned artists, has been invited by the V&A to create a new limited edition artwork, exclusively for sale at the V&A. 
V&A Select is a new collection of artist prints commissioned by the V&A. Each print is available in an edition of just 75. The artists were chosen for the way their work connects with the V&A and creates the opportunity for a new dialogue with the collection.
Spring is a geometric print commissioned by the V&A that uses six-fold symmetry, meaning that in the original drawing, a circle is split into six equal pieces creating an underlying hexagonal grid, on top of which the design is built. The shapes and patterns are universal, based on core mathematical principles.  Artist Zarah Hussain hopes to create a space for peaceful contemplation with this print; the colours were chosen to reflect spring and the artist's desire to look towards the future with hope.
A visit to the V&A in her youth first inspired Zarah to experiment with the geometric motifs often seen in Islamic art and design. She went on to study for an MA in Islamic Art at The Prince's School for Traditional Arts, perfecting the hand-drawn traditional patterns and exploring how symmetry, repetition and the careful placing of colour can create a sense of balance and calm for both the maker and the viewer.
Created exclusively for the V&A, this limited edition artwork is for sale at vam.ac.uk/shop