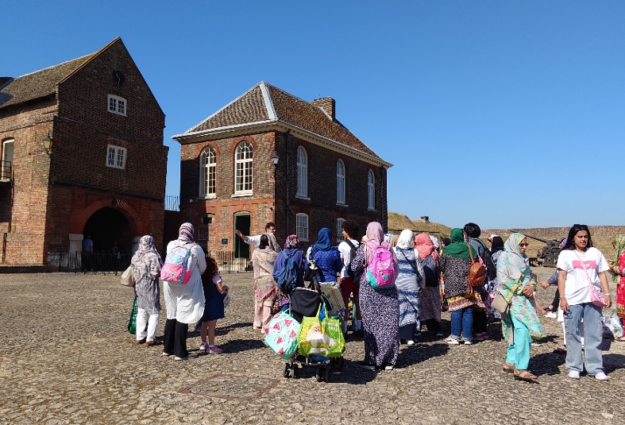 From June to November 2023 Essex Cultural Diversity Project ran Active Thurrock, a six-month programme of physical activities and events supported by the Lower Thames Crossing Community Fund.
The aim of the project was to Improve the health and wellbeing of diverse communities through physical activity; to champion the use of local green spaces; and to connect people with the culture, history, heritage and landscape of Thurrock.
We worked with the elderly Sikh, Muslim and Bangladeshi communities who live in the new development area of East Tilbury. A large number of these diverse communities worked at the Bata Shoe factory in the 1960's and 1970's in East Tilbury, and some also worked at the Tilbury Port and Docks. The project enabled these groups to explore the wider Thurrock beyond East Tilbury.
More than 300 people took part in Active Thurrock, which was a greater number of people than anticipated in the original application. This was due to the late summer weather in September, as well as growing interest in the project generated by positive word of mouth at the local Sikh Gurdwara (Temple) and Mosques.
Participants visited historical places of significance in Thurrock with their families and attended historical guided walks and talks with local historians. The project provided an excellent opportunity for participants to share memories, experiences and stories with their families and the wider community.
Pictured above: Local Bangladeshi and Pakistani families enjoy a visit to Tilbury Fort
---
Key Project Activity
Over the six month we provided the following activities:
Guided trips to local green spaces and country parks including Belhus Country Park
Cycling and brisk walking locally in East Tilbury at Gobions Park and Thurrock Thameside Nature Park
Talks and walks at local heritage sites including Coalhouse Fort, Bata Shoe factory with Thurrock historian Mike Ostler, Tilbury Fort, Tilbury Port. Unfortunately due to the current closure of Coalhouse Fort the group were only able to visit from outside perimeter.
Talks on health and wellbeing at the local library and issues related to the local community.
Outdoor Nature visits at RSPB Rainham Marshes which also included a tour of Rainham Hall (A National Trust Property)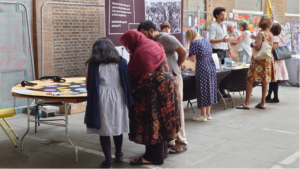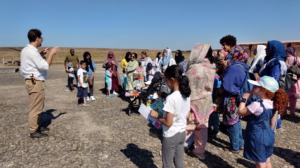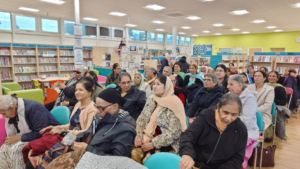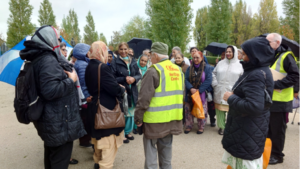 Images: Windrush 75th Anniversary at Tilbury Docks visited by local diverse communities in Thurrock | Tilbury Fort Curator welcoming the local communities to the heritage site | Talks at East Tilbury Library with local diverse communities | The local Sikh Community enjoy learning from local historian Mike Ostler
---
Key Project Outcomes
Benefits to Participants
We engaged with hard-to-reach communities and provided support for a long-term sustainable legacy of our project so that the diverse communities in East Tilbury can benefit from Active Thurrock which has given them the confidence and self-esteem to support their physical well-being and mental health for the long term. These community groups have explored and discovered new places of interest and outdoor green spaces. Also, the project encouraged more families to spend time together especially grandchildren and grandparents to visits to various local heritage sites and open outdoor green spaces.
Community Cohesion
The trip to Tilbury Port coincided with the 75th Windrush Anniversary celebration events in June, so Sikh, Muslim, and Bangladeshi families joined the celebration with others from a range of cultural backgrounds, including the African Caribbean elders and their families.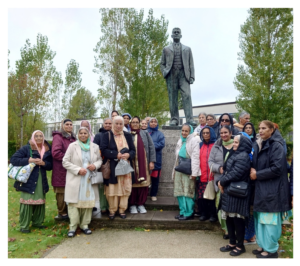 Pictured above: Visit to the Thomas Bata statue in East Tilbury Bata Shoe Factory
Cross-Generation
The prime focus of the project was to support isolated elderly people, but also encouraged the families of the elderly in East Tilbury to be part of the project and we welcomed all ages to take part in the activities. The project therefore had strong cross-generational outcomes.
Strengthening Networks
Funding from Lower Thames Crossing Community Fund has helped us further strengthen our networks with diverse communities in East Tilbury, engaging with both the established and new emerging communities.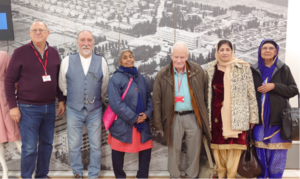 Pictured above: Community Ambassadors with Bata Heritage Centre volunteers
Legacy: Community Ambassadors and Future Trips
One unexpected outcome was the creation of a group of volunteer community ambassadors. The participating community groups have key members who are keen to arrange further visits to the Bata Heritage Centre and other local places of interest and outdoor spaces, who we have called our volunteer community ambassadors. We have recruited five community ambassadors to lead on this outcome from the project. They will meet at the local Grays Gurdwara Community Centre and arrange trips through the year. The Grays Gurdwara are keen to provide the transport costs through donations from the local Sikh and Muslim community and business. Through the Active Thurrock project, we have given the local diverse communities ownership to continue this work and engage more with the communities in East Tilbury who felt very isolated.
---