Back
The power of SPORT and ART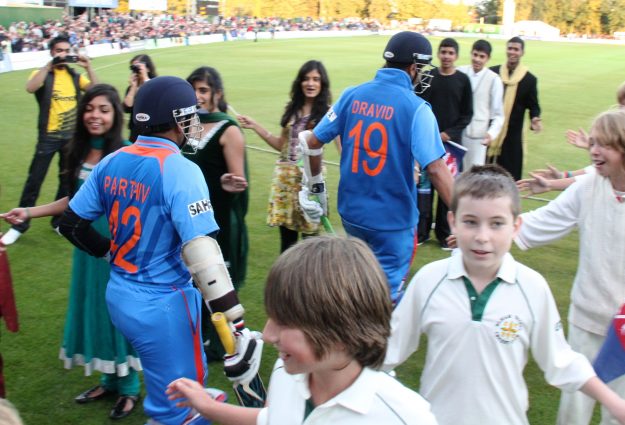 While cricket is on hold due to the Coronavirus lockdown, here's a little reminder of the joint POWER of SPORT and ART to inspire passion and help us express ourselves; to bring people together, across borders, cultures and generations, and connect communities, locally and globally.
Over the years Essex Cultural Diversity Project and Essex County Cricket Club have regularly teamed up to deliver some excellent joint projects.
There was music for Windrush Day 2019, at the Women's International Match England v the West Indies; Beyond the Boundary celebrated Sri Lankan and Pakistani communities in Essex; and Essex County Cricket Ground saw an explosion of colour and sound for the Indian Summer of Cricket and Essex v India'a warm up test match. We also organised the Maharajah Ranjit Singh T20 Cricket Trophy for the Festival of Thetford and Punjab, with Thetford Town Cricket Club and Punjab Five Rivers Cricket.
Bringing people together through the medium of sport and art…
Athletes and Artists, performing at their best!
---
Beyond The Boundary
Beyond the Boundary linked SPORT and ART through the medium of cricket, working with the Sri Lankan and Pakistani Communities in Essex.
Essex Cultural Diversity Project partnered with Essex County Cricket Club and other partners and artists to deliver multidisciplinary and cross-disciplinary artforms, including performance art, interactive and participatory collaborations that go Beyond the Boundary of a traditional art form. We identified a huge gap with limited engagement from both communities in the arts. The project commenced with a Cultural Extravaganza followed by community participation workshops and a finale performance at two international cricket matches in Chelmsford, reaching out to both culturally diverse and non-diverse audiences.
The project was supported by Arts Council England, Essex Cricket Club and Essex County Council.
---
Maharajah Ranjit Singh T20 Cricket Trophy
Images from the match in Thetford, as part of the Festival of Thetford & Punjab