Back
An Indian Summer at Essex Cricket County Ground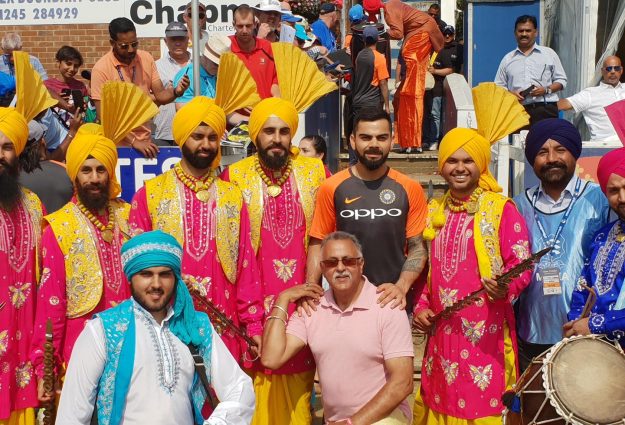 Image: Indian Cricket Team Captain Virat Kohli with
Virsa Punjab & Jugnu Group at Essex v India Match Chelmsford
An Indian Summer at
Essex Cricket County Ground
The Essex v India cricket match at Essex Cricket Ground in Chelmsford 25-27 July 2018 welcomed a combination of Arts and Sport through Bhangra, Gidha and Dhol Drumming.
Jugnu Bhangra Group, Virsa Punjab and DEA Dhol Drummers all performed – India's cricket players enjoyed the dance and music, and Virat Kolhi, captain of Indian team, joined the bhangra dancers (pictured above). The game was a warm up test match for India, before their five international test matches against England, and many of the Sikh community attended the three-day event in Chelmsford.
Indi Sandhu, Creative Director of Essex Cultural Diversity Project said:
"This is an excellent way to bring together arts, culture and sport through Cricket. All the performers, cricket players and audiences had a great time enjoying the Indian Culture and Cricket"
Over the years ECDP and Essex Cricket Club have developed a strong relationship, working together to engage and participate with the diverse communities in Essex through the medium of cricket and linking with cultural activities.
Jagdev Singh Virdee of Jugnu Bhangra said,
"This was a great opportunity for our female Dancers from Jugnu to be part of a very prestigious cricket match and to meet with the players and perform in front of a large crowd. We should have more events like this were we can have sports and Cultural events together".
Here are the highlights of the event (from our Flickr image archive):