Back
Stand Up For Diversity #8 Celebrating Women in Essex
Wednesday 12 May 2021 7:00 PM - 8:30 PM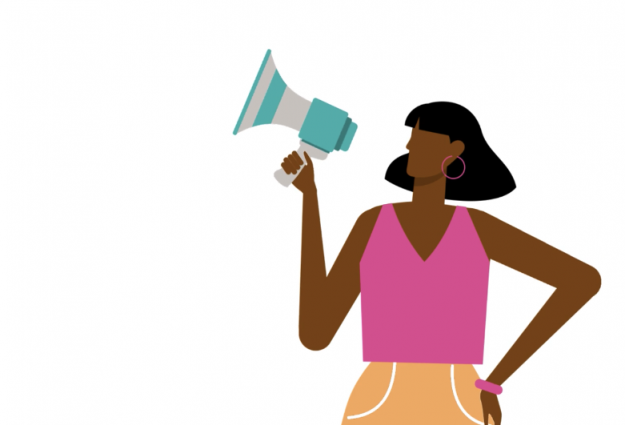 Stand Up For Diversity #8
Snapping the Stiletto: Campaigning for Equality
May 2021
An evening of three-minute mini-talks, short soap-box shout-outs that put a spotlight on women and diversity.
Hosted in partnership by Essex Cultural Diversity Project and Essex Book Festival, for this event we teamed up with Snapping the Stiletto: Campaigning for Equality, an exciting project that seeks to re-examine the Essex Girl identity and represent what it is to be a woman living in Essex today.
The event brought together people who want to champion and celebrate women and diversity in the arts and in our communities, share the work they do with others, and collectively celebrate strong diverse voices.
Speakers lined up for three-minute mini-talks were:
Maja Antoine-Onikoyi, Maja's Education Project (compere)
Delaine Le Bas, artist
Agnieszka Dale, writer
Sian Fan, artist
Josephine Melville, South Essex African Caribbean Association
Pepi Sanchez, Snapping the Stiletto Ambassador
Lisa Selby, Snapping the Stiletto Ambassador
Hephzi Angela Tagoe, Snapping the Stiletto Ambassador
Nicola Werenowska, playwright, radio dramatist and creative writing tutor
---
About our speakers
We invited the following speakers to each give a three-minute mini-talk about themselves and their work, and the issues which are important to them.

Maja Antoine-Onikoyi
Director of Maja's Education Project CIC
Youth & Diversity Adviser at Essex Book Festival
Maja Antoine-Onikoyi is a student at the University of Essex, and the company director of Maja's Education Project CIC: a non-profit organisation that donates books on topics that cover Black history, injustice, microaggression and fiction written by black authors. After being seen on BBC, ITV, Dazed magazine and more, Maja now works with businesses as a diversity consultant to improve the quality of content that accurately represents and reaches people of colour.
---

Delaine Le Bas
Cross disciplinary artist
Delaine Le Bas was born in Worthing UK in 1965. She studied at St Martins School Of Art London. Delaine is a cross disciplinary artist. She worked with her late husband the artist Damian Le Bas on their installations Safe European Home? and in 2017 producing the stage artworks and costumes together for Roma Armee. Delaine created Romani Embassy in 2015. Her works have been included in Prague Biennale 2005 & 2007, Gwangju Biennale 2012, ANTI – Athens Biennale 2018, Venice Biennale 2007, 2017 & 2019, Critical Contemplations Tate Modern 2017. In 2019 she created the costumes for Rewitching Europe which premiered at Gorki Berlin in November 2019. She also had archive works, a new installation and performance commissioned by Gorki for 4.Berliner Herbstsalon DE-HIEMAITZE IT! which opened in October 2019. Delaine is currently one of the artists for When The Crack Begins Within 11th Berlin Biennale and Guest Professor at UdK – University Of The Arts Berlin.
Delaine will be participating in Essex Book Festival's Rewriting The Archive Project in collaboration with Southend Museums.
delainelebas.com | Delaine Le Bas is represented by www.yamamotokeiko.com
---

Agnieszka Dale
Writer
Agnieszka Dale, is a Polish-born, London-based writer. Her first book, Fox Season and Other Short Stories, written in English, was published in 2017 and longlisted for the Edge Hill Prize. Her short stories, feature articles, poems and song lyrics were selected for anthologies such as Tales of the Decongested, Chained To The Sky and Other Tales: The Fine Line Short Story Collection, Liars League London, BBC Radio 4, BBC Radio 3s In Tune Live from Tate Modern, Conradology and The Stylist website. In 2013 she was awarded the Arts Council England TLC Free Reads Award. Her story The Afterlife of Trees was shortlisted for the 2014 Carve Magazine Esoteric Short Story Contest and longlisted for the Fish Short Story Prize 2014. Dale will be participating in three events during Essex Book Festival in 2021: Index on Censorship with Sylwia Hutnik, Rewriting the Archive in collaboration with Thurrock Museum, and The Story Hunters Project at Cressing Temple Barns.
---

Sian Fan
Interdisciplinary artist
Sian Fan is an interdisciplinary artist based in Essex and working in London, where she is artist in residence at the Sarabande Foundation. She has exhibited internationally with venues including Tate Modern, British Council, and the ICA, as well as producing work with Channel 4, the BBC and Google. Her work combines movement, the female body and technology to explore embodiment, spirituality and human experience in the digital age. She is concerned with the complexities of spiritual experience and with being human in our increasingly digitised and hyperconnected world. Through her work she hopes to discover new ways for us to coexist with technology. Amongst other projects in the pipeline, Sian is currently working on Current, commissioned by Essex Cultural Diversity Project and Chelmsford City Council, as part of Essex2020: Year of Science and Creativity.
---

Josephine Melville
Dancer, Actor, Singer, Writer, Producer, Director, Consultant and Archivist
Josephine has had an extremely varied career starting out as a dancer and making her transition to actress writer, director, archivist and producer working in the business for over 40 years. Among her extensive theatre and TV credits she has performed in many British pantomimes, toured and performed in many theatres across the country, and appeared on TV in programmes. Josephine is the founder of South Essex African Caribbean Association (SEACA) based in Southend, which helps to build, promote and share the exciting and colourful African and Caribbean Culture in Essex. Josephine's next project for SEACA will be KNOW YOUR ROOTS, exploring aspects of African Caribbean Culture with a focus on the treatment of hair. Many Black people don't know the history of Black hair and natural hairstyles and the significance it held in Africa. Our culture of passing down the various methods and styles of grooming hair, is a tradition we wish to celebrate. This will be an intergenerational project looking at how young women can take pride in their crown.
southessexafricancaribbeanassociation.com | facebook.com/Hamletcourtroadinharmony | hamletcourtroadshops.co.uk/hcr-in-harmony-2
---

Pepi Sanchez
Snapping the Stiletto Ambassador
Pepi runs a charity cafe in Colchester, provides young people with additional needs and disabilities with training and opportunities in order to prepare them for employment, and supports other at risk groups in Essex. Pepi has been nominated to be a Snapping the Stiletto Ambassador by people who have worked with her and individuals she has helped through her community projects.
www.go4enterprises.org/
www.snappingthestiletto.co.uk/projectambassadors/pepi
---

Lisa Selby
Snapping the Stiletto Ambassador
Lisa is an artist, activist, and lecturer. She has created an online community through her Instagram account @bluebaglife, where she shares her stories and those of the people she connects with online. Lisa was nominated to be a Snapping the Stiletto Ambassador by people who have been helped by her and admire her commitment to giving voices to people living with addiction.
instagram.com/bluebaglife/ | www.snappingthestiletto.co.uk/projectambassadors/lisa
---
 
Hephzi Tagoe
Snapping the Stiletto Ambassador
Hephzi is a science communicator who is passionate about increasing the accessibility and inclusiveness of science, particularly those from those underrepresented in science, technology, engineering, and maths. She set up Basildon Street Science, and runs educational opportunities for young people and their families.
www.snappingthestiletto.co.uk/projectambassadors/hephzi
---

Nicola Werenowska
Playwright, radio dramatist and creative writing tutor
Nicola Werenowska is an award-winning neurodivergent playwright, radio dramatist and creative writing tutor. She began writing professionally in 2003, following her life transforming dyspraxia diagnosis. Her work has been produced regionally and nationally, longlisted for national competitions and her play Hidden was runner up for the Mercury Prize 2016. Recent work includes a 5 star sell out show Silence on national tour in 2018, and her radio debut as co-writer for Radio 4's Christmas Classic adaptation Amy Dorrit in 2019. Nicola has been on attachment to Graeae, a member of the Royal Court National writers' group and of a BBC Writersroom Access group. She's currently Associate Artist at the Mercury Theatre and Lakeside Theatre. As a neurodivergent playwright, Nicola often focuses on stories that explore this subject in her work and is actively committed to supporting neurodivergent artists and raising awareness of these conditions. Her new play Masked, partnered by the New Wolsey and Colchester Arts Centre, will be presented at this year's Essex Book Festival and explores the lives of three undiagnosed neurodivergent women.
---