Back
Arts in Transit: Lata Uphadyaya
Saturday 29 May 2021 - Saturday 26 Jun 2021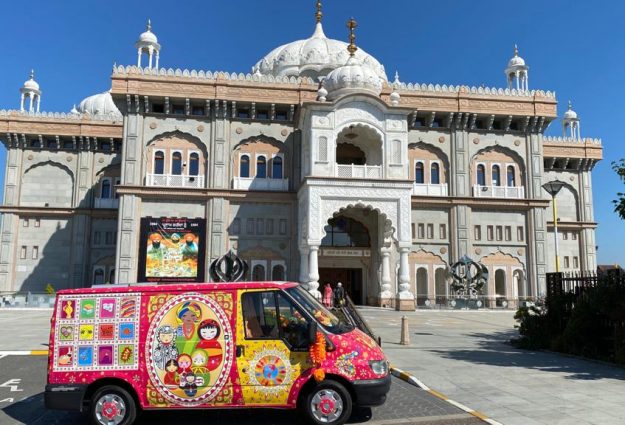 Arts in Transit: Lata Uphadyaya
Artist Lata Uphadyaya is travelling around Essex from her home in Thurrock in the white Ford Transit van that she has transformed into a travelling art and conversation space.
Lata's work Arts in Transit transforms an ordinary white Ford Transit van, a common sight on the roads of the UK. By bringing together cultural signifiers from the two places Lata has called home – the stereotype of the British 'White Van Man' and South Asian truck art, where vehicles are decorated with elaborate patterns and calligraphy – the van is designed to reflect the rich diversity of contemporary Britain and the valuable contribution that immigration has made to British society.
We Are All Here, a new work which launched at Estuary 2021, transforms the inside of the van into an installation of books representing the history and culture of communities around the Thames Estuary. The books' covers, developed through workshops with local communities, are inspired by the stories of migrants that have arrived to the UK, via Tilbury Docks, from across the British Empire.
Arts in Transit will be on display at the Bhaji On The Beach outdoor film screening at Jaywick Martello Tower on Saturday 26 June essexcdp.com/event/bhajionthebeach/
The work was seen at various places as part of Estuary Festival from 29 May – 13 June 2021,  including at the Gravesend Gurdwara (as pictured above).
---
Estuary 2021 was a large-scale arts festival that celebrates the lives, landscapes and histories of the spectacular Thames Estuary. Taking place along the 83 miles of South Essex and North Kent coastline, contemporary artworks, discussion and events explored and responded to powerful themes resonant to the estuary. Read the full programme at estuaryfestival.com
As part of We Are All Here, Lata launched a participation project, joining up with the global BookCrossing.com project to share a specially curated selection of books associated with the Thames Estuary and contemporary British society. BookCrossing is the act of giving a book a unique identity so, as books are passed from reader to reader, their journeys can be tracked and opinions, recommendations and thoughts shared, creating connections across audiences. It's a celebration of literature and a place where books get a new life, just like the migrants that have settled in Britain.
Arts in Transit and We Are All Here have both been supported using public funding from the National Lottery through Arts Council England, Essex Cultural Diversity Project, Thurrock Borough Council, Cement Fields and with support from Metal.