Back
Bourne Narratives: Felt making workshops
Monday 17 Feb 2020 - Wednesday 19 Feb 2020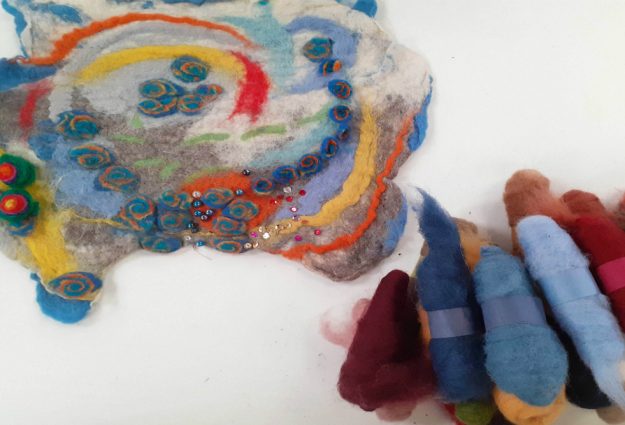 Bourne Narratives
Felt making workshops at Bourne Mill, Colchester
Monday 17 February 10am-12pm and 1-3pm
Tuesday 18 February 10am-12pm and 1-3pm
Wednesday 19 February 10am-12pm and 1-3pm
All are invited to join artists Nicola Burrell and Lisa Temple-Cox, who will be working with visitors at Bourne Mill exploring ideas inspired by the mill and the beautiful Bourne Valley.
Come and learn felt making techniques, manipulating sheep's fleece into a piece of fabric, which will then become part of a major new artwork Bourne Narratives commissioned by the National Trust and Essex Cultural Diversity Project.
Free, drop-in (no need to book)
Children must be accompanied by an adult.
Entrance to the mill: free for workshop participants
Venue: Bourne Mill, Bourne Road, Colchester, Essex, CO2 8RT
For more information and directions to the venue, visit www.nationaltrust.org.uk
---
About the commission
Essex Cultural Diversity Project and the National Trust have teamed up to create two creative commissions focusing on National Trust properties.
Nicola Burrell and Lisa Temple-Cox are artists who work with places and histories to create artworks that sit in and belong to their site. They work in a range of media both permanent and temporary, and their practice is informed by public and community engagement.
For their project Bourne Narratives, they will be working with staff, visitors and volunteers, and running workshops with local community groups. Over the next few months they will be working with diverse communities in Colchester to create a large felt-based map, to explore this National Trust property, geographically and culturally, and highlight the beauty and ecological diversity of the site.