Back
National Trust Commission in Coggeshall: Mike Roberts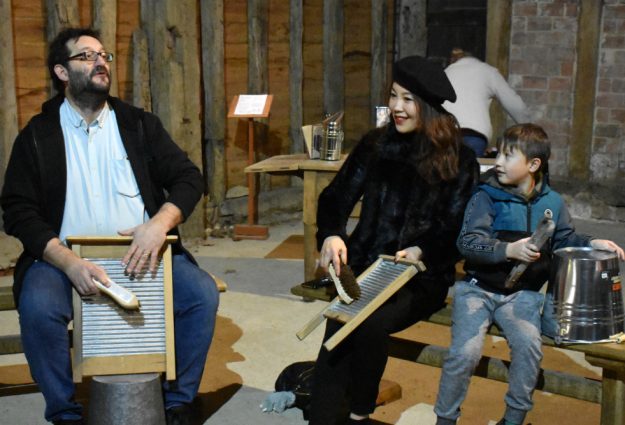 Mike Roberts was appointed for the commission in Coggeshall in partnership with the National Trust, working with visitors, volunteers and local communities to create work in response to Paycocke's House, Grange Barn and the historic town of Coggeshall. 
Mike Robert's project, Woven Sound – Knitted Community revolves around the historical use of Grange Barn as a combined place of industry (wool) and community gathering, and the musical connection between Paycocke's House and the composer Gustav Holst. He used musical activity and creation as a focus for culturally diverse collaboration.
In late 2019 until early 2020, Mike worked with the local community to create patterns captured both in wool (through knitted and woven patterns) and sound, to 'compose' a collection of rhythmic woollen pictures, culminating in a unique sonic and visual installation in Paycockes House in May-October 2021.
https://www.soundingofsilence.com/woven-sound
---
About the artist
Mike Robert is an award winning composer with specialisms in electronic, experimental, media and educational music. His artistic practice involves sound, music and multi-disciplinary artforms in collaboration with, and for, local communities to inspire wonder, learning and engagement. In the past five years he has worked alongside children and teenagers with special needs, SLD and PMLD; refugee and migrant communities; cross-generational choir groups; schools, special schools and home education groups; families and geographically defined communities; and arts and heritage organisations.
---
About the National Trust
The National Trust is a conservation charity founded in 1895 by three people who saw the importance of our nation's heritage and open spaces, and wanted to preserve them for everyone to enjoy.  More than 120 years later, these values are still at the heart of everything the charity does. Entirely independent of Government, the National Trust looks after more than 250,000 hectares of countryside, 778 miles of coastline and hundreds of special places across England, Wales and Northern Ireland. Almost 27 million people visit every year, and together with more than 5.6 million members and over 65,000 volunteers, they help to support the charity in its work to care for special places for ever, for everyone. For more information and ideas for great seasonal days out go to www.nationaltrust.org.uk
---
"We are thrilled to be working in partnership with Essex Cultural Diversity Project on this exciting commission. Mike Robert's proposal will help bring to life the spirit of our special places in Coggeshall and help further imbed us into our community. We look forward to a great collaboration ahead." Kerith Ririe, House Manager, National Trust

"I'm so grateful for the opportunity to explore the rich heritage of Paycocke's House and Grange Barn with the community of Coggeshall. To be trusted with such an ambitious commission by ECDP and the National Trust is a real honour.  My desire is to work with all sections of the Coggeshall community, creating sound, music, and woven/knitted fabric responses to the inspiring narrative of both house and barn. During the process, I hope the significance of Grange Barn will continue through a fresh expression of community gathering – encouraging unity through a tapestry of diversity." Mike Roberts
---