Back
Woven Sound: fun online activities
Wednesday 1 Apr 2020 - Tuesday 30 Jun 2020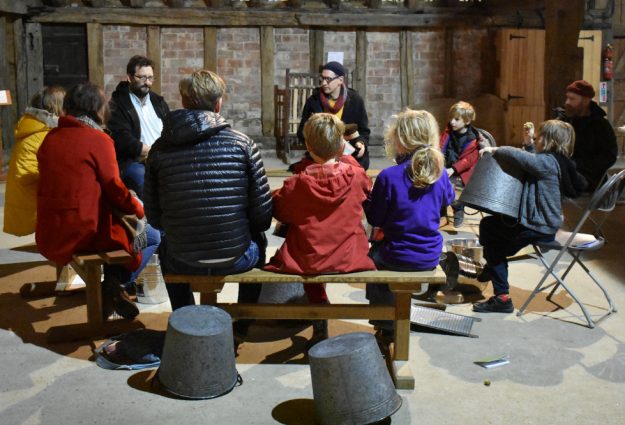 Woven Sound – Knitted Community: Mike Roberts
Online activities to explore pattern and sound
www.soundingofsilence.com/woven-sound
Mike Robert's commission for National Trust Coggeshall, Woven Sound – Knitted Community, revolves around the historical use of Grange Barn as a combined place of industry (wool) and community gathering, and the musical connection between Paycocke's House and the composer Gustav Holst. He is using musical activity and creation as a focus for culturally diverse collaboration, culminating in an exhibition at Grange Barn later this year. Mike has set up a special website with online exercises and activities for all to enjoy.
Stay in and Play
Exploring pattern and sound
For those at home alone or with family during the Coronavirus lockdown, Mike has moved his commission activity online. There is much to play and experiment with; virtually meet the artist via a friendly video introduction, send him recorded sounds from around the house and garden, convert drawings into sound using a free App on your phone, learn how to hand weave and play with drum machines. Mike is inviting all to then submit your creations and experiments, for him to include in his final installation at the National Trust's Grange Barn, when it reopens to the public after lockdown.
To find out how you can participate visit www.soundingofsilence.com/woven-sound