Back
Woven Sound Workshop
Saturday 22 Feb 2020 11:00 AM - 3:00 PM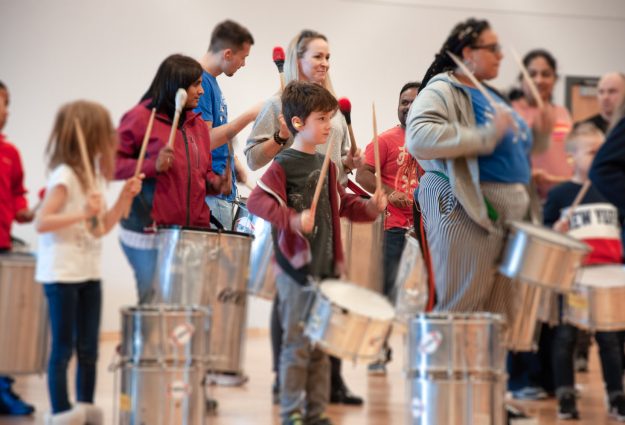 Woven Sound Workshop
Fun for all the Family 
Saturday 22 February 11.00am-3.00pm
A series of free, drop-in workshops that explore the link between music and weaving patterns.  Uncover some of the history of Paycocke's House and Grange barn by taking part in a barn 'stomping' rhythm circle, creating melodies with music boxes and turning visual patterns into sound.  Several activities will be available on a rolling basis across Paycocke's House and Grange Barn and they're open to all ages with no experience necessary.
Free, drop-in (no need to book)
Children must be accompanied by an adult.
Small children in particular will need adult supervision to get the most from the activities
Venue: Grange Hill, Coggeshall, Colchester, Essex, CO6 1RE nationaltrust.org.uk/grange-barn
Venue: Paycocke's House, 25 West Street, Coggeshall, Colchester, Essex, CO6 1NS nationaltrust.org.uk/paycockes
About Mike's commission in Coggleshall
Essex Cultural Diversity Project and the National Trust have teamed up to create a commission focusing on National Trust properties Paycocke's House and Grange Barn in Coggeshall.
Mike Robert's project, Woven Sound – Knitted Community, revolves around the historical use of Grange Barn as a combined place of industry (wool) and community gathering, and the musical connection between Paycocke's House and the composer Gustav Holst. He will use musical activity and creation as a focus for culturally diverse collaboration.
Over the next few months Mike will work with the local community to create patterns that can be captured both in wool (through knitted and woven patterns) and sound, to 'compose' a collection of rhythmic woollen pictures, culminating in a unique sonic and visual installation in Grange Barn.