Back
National Trust Commission at Bourne Mill: Nicola Burrell and Lisa Temple-Cox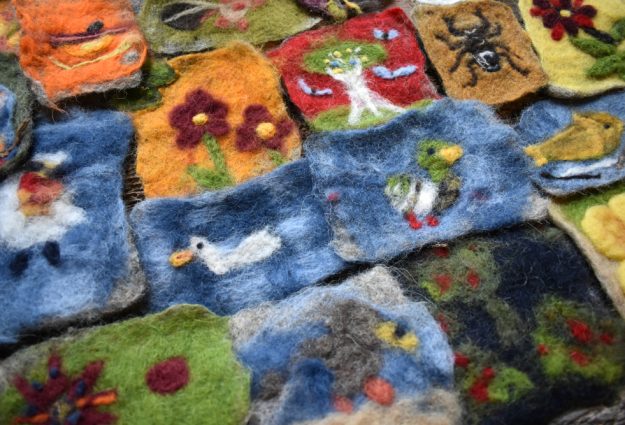 In 2019-21 Nicola Burrell and Lisa Temple-Cox were appointed for the Bourne Mill commission in partnership with the National Trust, working with visitors, volunteers and local communities to create work in response to Bourne Mill and the surrounding Bourne Valley.
Nicola Burrell and Lisa Temple-Cox are artists who work with places and histories to create artworks that sit in and belong to their site. They work in a range of media both permanent and temporary, and their practice is informed by public and community engagement.
For their project, entitled Bourne Narratives, they worked with Bourne Mill staff, visitors and volunteers, as well as running workshops with local community groups.
They worked with diverse communities in Colchester to create a large felt-based map, to explore this National Trust property, geographically and culturally, and highlight the beauty and ecological diversity of the site. This became a creative prompt for participants to reflect and share memories and personal histories. Participants' stories will be added to the rich history of Bourne pond and mill, and the individuals, events and activities that have shaped it.
The final artwork was a multi-media, multi-technique banner, created from individually crafted felts made by the participants, growing to embody the cultures the artists discovered along the way. For all its variety it has in common the shared pleasure of making beautiful and carefully crafted things, and a sense of people and place.
The final piece will be on show at Bourne Mill from July until October 2021.
www.nicolaburrell.co.uk | Twiter:@lisatemplecox | Instagram: @lisa_temple_cox
"We are thrilled to be working in partnership with Essex Cultural Diversity Project on this exciting commission. It is great to be working with local talented artists, Nicola Burrell and Lisa Temple-Cox, creatively bringing another layer to the spirit of our special place in Colchester and further developing our connection with our community on our doorstep. We look forward to a great collaboration ahead."
Kerith Ririe, House Manager, National Trust

"We are both delighted and honoured to be part of this exciting commission in our home town. We are excited to be working with Essex Cultural Diversity Project, and exploring the site and histories of Bourne Mill, but we are especially looking forward to engaging with Colchester's diverse international communities. We want to learn of their histories and heritage, and open up to all the opportunities afforded by the beautiful National Trust property on our doorstep. We see this as a two-way process that benefits all involved, including ourselves, and can't wait to get started!"
Nicola Burrell and Lisa Temple-Cox
About the National Trust
The National Trust is a conservation charity founded in 1895 by three people who saw the importance of our nation's heritage and open spaces, and wanted to preserve them for everyone to enjoy.  More than 120 years later, these values are still at the heart of everything the charity does. Entirely independent of Government, the National Trust looks after more than 250,000 hectares of countryside, 778 miles of coastline and hundreds of special places across England, Wales and Northern Ireland. Almost 27 million people visit every year, and together with more than 5.6 million members and over 65,000 volunteers, they help to support the charity in its work to care for special places for ever, for everyone. For more information and ideas for great seasonal days out go to www.nationaltrust.org.uk