Saturday 3 Jul 2021 - Sunday 31 Oct 2021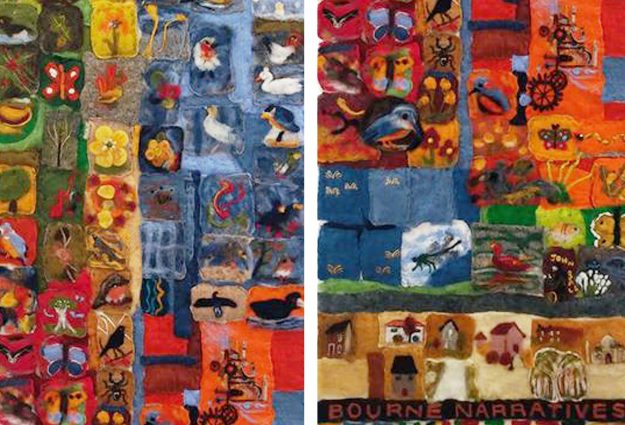 Bourne Narratives
Lisa Temple-Cox and Nicola Burrell
3 July – 31 October
Presenting a communally-created tapestry of individually crafted felts, created by artists Nicola Burrell and Lisa Temple-Cox in collaboration with Bourne Mill visitors, volunteers and local communities, commissioned by the National Trust and Essex Cultural Diversity Project.
---
About the Exhibition
Artists Nicola Burrell and Lisa Temple-Cox present Bourne Narratives, a collaborative artwork made with visitors, volunteers and local communities at the National Trust property Bourne Mill in Colchester.
Bourne Mill has played many roles in its long history, but it was once used as a fulling mill. Colchester was a centre for wool production at the time, and the fulling process took woven wool and beat it to make a denser cloth. This is similar to how felt is made, where raw wool is wetted and rolled to create felt.
Inspired by this, the artists began a series of outreach workshops teaching the art of felt-making. Beginning with a range of natural and dyed wools, workshop participants created their own piece of felted fabric. This was then appliquéd with more wool, using felting needles to create an image in the cloth.
The designs of each felted piece were themselves inspired by the history of the mill and the ecology of the wider Bourne Valley area, as well as the stories and imagination of the varied community groups that they worked with. Participants of all ages took part in these workshops, creating a series of unique felt patches.
At the end of the project these individually crafted felts were stitched together to form a banner, in a pattern describing the course of the mill stream and the ponds that lie along it: tying together the rich natural history of the area, and embodying the participation of the people who took part.
This artwork is therefore a communally-created tapestry of individually crafted felts, and is both a record and a map of this project: bringing together the culturally diverse communities that contributed to it, and introducing new audiences to the location, history, and wildlife of this beautiful and unique mill.
---
Venue: Bourne Mill, Bourne Road, Colchester, Essex, CO2 8RT
Entry Price: Adults £5 / Children £2.50 / Family £12.50 / 1 adult + 2 children £7.50
Open Times: Paycockes House is currently open Friday and Saturdays for pre-booked guided experiences for groups of six or less
For booking, travel instructions and further info: visit
www.nationaltrust.org.uk/bourne-mill
---