Back
The Woven Sound Exhibition
Friday 28 May 2021 - Sunday 31 Oct 2021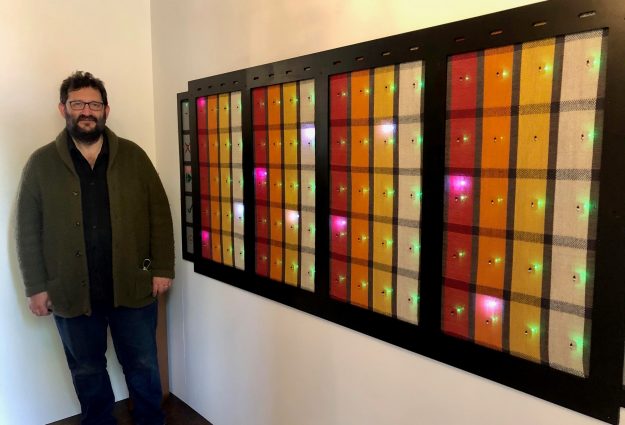 The Woven Sound Exhibition
Mike Roberts
28 May – 31 October
Mike Roberts, composer and sound artist, launches the Woven Sound Exhibition at Paycockes House, the culmination of his recent commission in Coggeshall. The work was commissioned by Essex Cultural Diversity Project and the National Trust, who selected Mike to work with visitors, volunteers and local communities to create work in response to Paycocke's House, Grange Barn and the historic town of Coggeshall. 
---
About the Exhibition
The Woven Sound Project was inspired by two historical stories connected with Paycocke's House, Coggeshall. Firstly, its importance as a centre of the local wool and fabric industries from the 16th Century and, secondly, a brief period almost 100 years ago, when the house was home to the composer, Gustav Holst, and his family.
These dual sources of inspiration have been combined in a project that explores the commonality of regular pattern in woven fabric, sound and music.
The Woven Sound Exhibition is an evolving visitor experience situated in the Small Palour at Paycocke's House.
It features a large, woven, interactive, yet contactless, musical instrument – the Woven 808 – that encourages visitors to 'weave' threads of sound through time to create musical patterns. Once created, these patterns can be contributed to the project where they will become part of a large woven fabric that sound artist, Mike Roberts, will be weaving throughout the duration of the exhibition.
The Woven 808 takes its inspiration from the colours of Grange Barn, the other National Trust property in Coggeshall, and the iconic Roland 808 drum machine – one of the first of its kind to enable users to create their own rhythmic patterns, which creates a sound that is now synonymous with 80's electronic pop music.
Other evolving features of the exhibition include Coggeshall Rainbows, a presentation of over 250 rainbow pictures captured in Coggeshall during the first lockdown. These are being converted into 'light threads' that generate sound and will be woven together to form a harmonious visual and sonic work.
For regular updates and videos about the exhibition and accompanying events, visit facebook.com/wovensoundproject
---
Venue: Paycockes House, 25 West Street, Coggeshall CO6 1NS England
Entry Price: Adults £8 / Children £4 / Family £20 / 1 adult + 2 children £12
Open Times: Paycockes House is currently open Friday-Mondays for pre-booked guided experiences for groups of six or less
For booking, travel instructions and further info: visit
www.nationaltrust.org.uk/paycockes-house-and-garden
---
About the Artist
Mike Roberts is an award-winning composer and sound artist with specialisms in electronic, experimental, media and educational music. He is also Head of Electronic & Produced Music at the internationally-renowned Guildhall School of Music and Drama, London. His artistic practice involves sound, music and multi-disciplinary art forms, working in collaboration with local communities to inspire wonder, learning and engagement.
---