Back
One-to-One with Emma Gibbs De Oliveira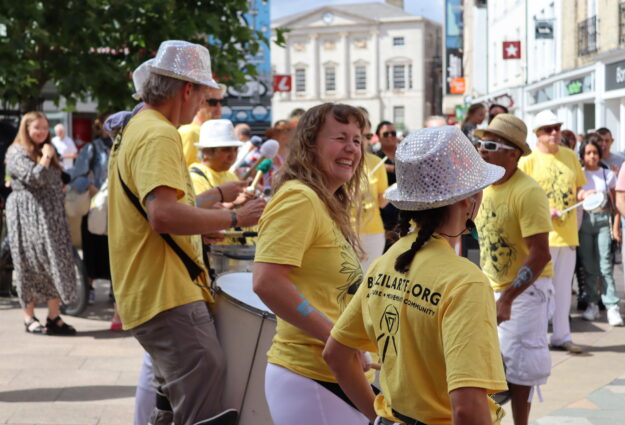 One-to-One with Emma Gibbs De Oliveira
October/November 2023
In this regular feature, we put a spotlight on an Essex-based creative practitioner working in diversity. This month we headed to Southend-on-Sea to spend some quality time with Brazilarte co-founder, artist and writer Emma Gibbs de Oliveira.
This One-to-One was an opportunity to catch up with Emma's work at Brazilarte, but also to talk about her creative journey as an artist and writer who is 'stepping into her own practice', as she puts it, exploring her 'heart space', health and heritage through a blossoming body of work that is bold, bright and full of optimistic energy.
Emma works in a mix of media, from film, writing and poetry, to bookmaking, drawing and illustration, and her art is very much rooted in community, nature and wellbeing. Much of her work is fueled by her passion for the Brazilian culture she has adopted over the years, as well as multiculturalism more broadly. Through her drawings and writing she seeks to navigate the world and her place in it.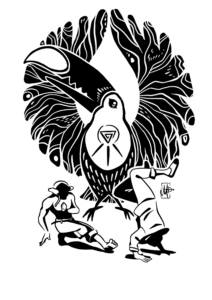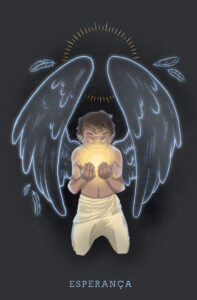 One strong example of this is in her illustrated book Mestre; as a Capoeira instructor, aka 'Contramestra Sininha', the book pays homage to prominent Capoeira teachers through the years. It features illustrations of twenty-nine Mestres, each accompanied by a short story and how they have influenced the art. Emma explains "the desire to create this book was to ignite a curiosity about the mestres who passed before us. To preserve their traditions and stories in the rodas we participate in today".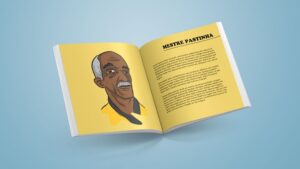 For over three years Emma has issued a weekly missive entitled A Newsletter for the Culturally Curious, and at the time of writing has just sent out issue #181. Emailed and published online every Wednesday afternoon, each newsletter is a midweek reflection in which she shares thoughts, inspirations and insights into everyday life, celebrating 'the small things' and being in the moment, as well as reflecting on bigger issues affecting us all.
The first 100 editions have been collated into a volume which has become the first zine For the Culturally Curious. This has inspired Emma to publish the works and writings of others alongside her own; in a gesture of sharing and connectivity that is recurrent in Emma's creative practice, Zine #2 comprises the work of 11 creatives on the theme of 'Air', and she is currently working on Zine #3 which will be inspired by 'Fire'.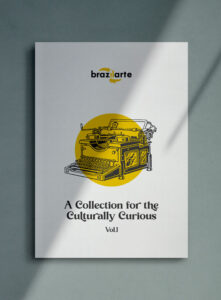 Emma is continuously thinking about ways to share, empower and uplift the community around her, and find new platforms on which she can connect with others.
Brazilarte was founded by Emma and her husband Biscuim in 2012, born out of a love of Brazilian culture and the desire to share its many benefits through music, dance, art and movement. Self-expression and wellbeing have always been at its core, along with community empowerment. This soon led to a need for a physical hub – in her words, a "space to play, to be active, to be creative and to experiment", so Emma and Biscuim opened Brazilarte Academy in 2014. It moved to its current home in Southend's Victoria Shopping Centre in 2020, nestled among retail units, cafes and other community, experience-led spaces.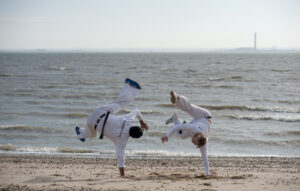 There is a positive energy about the space, with its red crash mats and shelving units overflowing with martial arts and fitness equipment alongside Brazilian costumes, drums and percussion instruments, hand-made and brightly decorated by Emma and the community.
It is a shrine to movement and motion, with offerings in the form of classes in Brazilian Martial Arts, Capoeira, Brazilian Jiu Jitsu, Dance, Capo Yoga and percussion. It plays host to an annual festival celebrating Brazilian culture, as well as arts and crafts workshops, and more recently a monthly Women's Circle that Emma runs.
Regular users of the space make up the vibrant and multicultural 'Brazilarte community', members of a wide range of global communities who have settled in Southend, including English, Spanish, French, Italian, Romanian, Ukranian, Turkish, Greek and many with mixed heritage.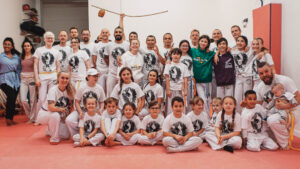 Emma has also recently established Brazilarte Collective, housed online at Substack. Whereas Brazilarte Academy is an in-person local community space, Brazilarte Collective is a global virtual hub for creativity, connection and collaboration, where users are invited to read, browse and comment, and share their own work.
Emma's creativity is, and always will be, intrinsically linked to the Brazilian culture that she is deeply connected to, through her work at Brazilarte as well as in her personal life, through her marriage to Biscuim and the mixed heritage of their children.
But Emma has recently been driven by an awakening need to explore her heritage more broadly. She is currently looking at her own story and cultural identity, including family links to Aboriginal Australians, Irish Travellers, as well as her English lineage. She is interested in nature, origin stories, myths and folklore that connect us all, and help us to understand the world around us.
This exploration has recently led her to the School of the Sacred Wild, where she has been studying Folk Herbalism and Wise Women Traditions. The school promotes alternative ways of living, and is a guide for those "seeking tools, training, empowerment, and the healing and help of ancient plants and timeless wisdom to shift you … into harmony with a natural cycle that regenerates life, health, wonder, and magic". The school has helped to focus Emma's interest in how nature can make us feel better, improving both our physical and mental health, opening the door to new philosophies and ideas that feed into her work and help her explore our relationship with the land.
On graduating from the School of the Sacred Wild, Emma created Whispers of the Wild, a film to celebrate the making of A Nettle Book, inviting us all to take "a gentle and delicious delve into my creativity. Unlocking doors and highlighting the primal need to create for pleasure."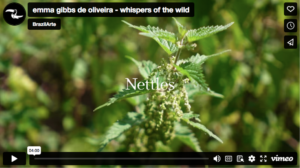 ---
Links
linktr.ee/brazilarte | www.instagram.com/brazilarte | www.brazilarte.org | www.facebook.com/BrazilArte | brazilarte.substack.com | twitter.com/brazilarteuk