Back
Black History Month Interviews on BBC Essex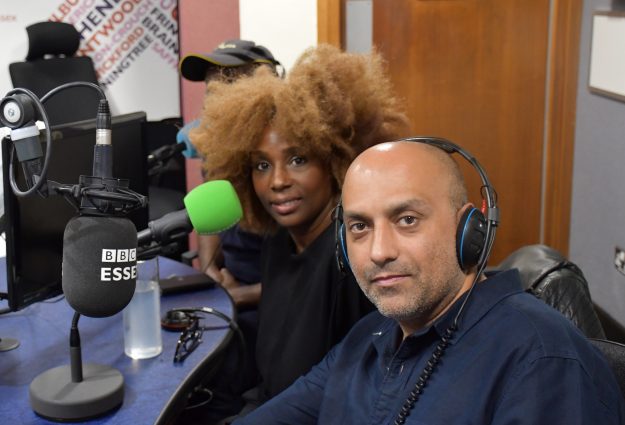 Essex Cultural Diversity Project have been leading on Black History Month Essex since 2008, working with a range of friends and partners across Essex, Southend and Thurrock to celebrate and raise awareness of Black History Month (BHM). For BHM 2020, in partnership BBC Essex, Essex Cultural Diversity Project presents a week-long series of programmes focusing on Black History Month through a range of topics.
---
Roles Models / Influencers in Black Culture
Guest Speaker: Artist Elsa James talks about Black Girl Essex
---
Black Music Scene in Essex
Guest Speaker: Tony Morrison, Eastern Roots, an Essex based Music Promoter
---
Black History Month Essex Special Programme

A bumper sized show with several speakers, including:
Indi Sandhu. Essex Cultural Diversity Project: Black History Month Essex
Lawrence Walker, Chair of Colchester Black History Month
Dr Cynthia Okpokiri, Anglia Ruskin University's programme of events
Zenith McIntyre-Allen, Essex County Council's BAME Network
Artist EveWright, Tilbury Bridge Walkway of Memories
Live performances by Gary Cordice, Playwriter, singer and actor
Efua Sey, Performer, storyteller, and singer from Harlow
---
TV/Film in Essex
Gary Cordice has a wealth of experience in performing in several West End Theatre productions and Actress Jo Melville who has appeared in TV over the years.
---
Food
In this programme, themed on food, BBC Essex talks to Austine Agwo from Jerk Station, based in Chelmsford.
---
BHM Essex Events 2020
Throughout October 2020
This year BHM Essex is celebrated by a range of organisations, including Anglia Ruskin University, Tendering District Council Junior Ambassadors Project in 8 Primary schools, PATAAC Harlow cultural events, BBC Radio Essex, Mercury Theatre and Essex County Council BAME Network. Click here for an overview of events in Essex and how to book.