Back
Ambassadors announced for Snapping the Stiletto: Campaigning for Equality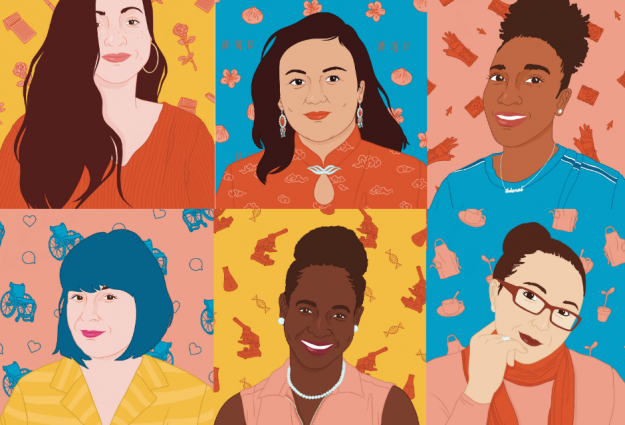 Snapping the Stiletto: Campaigning for Equality was recently seeking nominations for inspirational 'real' women to challenge the Essex stereotype. It has now chosen six ambassadors to become the faces of the campaign – we are particularly delighted that one of those chosen is  Simone Xue, founder of Colchester Chinese Culture Society and Essex Cultural Diversity Project Trustee. 
Snapping the Stiletto: Campaigning for Equality, which received over 100 nominations from across the county, has worked with communities and a panel of project partners to choose the six Essex women. All the women nominated have either been born, worked, or lived in the county.
The ambassadors – who are to have their portraits captured by artist and illustrator, Marcie Mintrose, and who will become the faces of the campaign at exhibitions throughout the county – are of different ages, from a diverse and wide-range of backgrounds and have been chosen for their inspiring work, campaigning and the support and opportunities they provide for underrepresented groups within the community.
The six women chosen to be ambassadors for Snapping the Stiletto: Campaigning for Equality are:
Adonai Chinmaya is a member of Essex Steamettes, a group which provides online activities – such as engineering and coding and much more – for young women aged between 11–19-years-old.
Pepi Sanchez runs a charity café and supports food banks. Pepi also helps organise programmes for youths with additional needs.
Lisa Selby is a campaigner for the rehabilitation of addicts and prison reform.
Hephzi Tagoe is a trained biochemist and dermatologist who runs Basildon Street Science as well as other Science, Technology, Engineering and Maths (STEM) outreach projects for underrepresented groups.
Nina Tame is a disability campaigner who also hosts disability awareness workshops.
Simone Xue runs Colchester Chinese Cultural Society, and is a Trustee for Essex Cultural Diversity Project.
---
ECDP RADIO: Snapping the Stiletto Special
ECDP Radio features interviews with a range of people connected to Essex Cultural Diversity Project's artistic programme, presented by Nita Jhummu. This episode is dedicated to Snapping the Stiletto: Campaigning For Equality, a project that celebrates the real women of Essex, and aims to challenge the Essex Girl stereotype. Nita talks to Nina Tame and Hephzi Tagoe, two of the six women recently chosen to be Ambassadors for the Snapping the Stiletto project.
---
The Snapping the Stiletto: Campaigning for Equality project, which has also worked to have the term 'Essex Girl' removed from the Oxford Advanced Learner's Dictionary, is to also hold a week long online exhibition as part of International Women's Day – a day which celebrates the social, economic, cultural and political achievements of women.
The next phase of the campaign, which is a National Lottery Heritage Funded project, will see the oral histories and artefacts of underrepresented communities in the county – and the objects that tell these stories – displayed in the Museum of Power, near Maldon, Saffron Walden Museum and Southend Museums.
Councillor Susan Barker, Essex County Council Cabinet Member for Customer, Corporate, Culture and Communities, said: "We are delighted that we received so many nominations about so many talented and inspirational women. Needless to say, but the judging process was extremely difficult due to the high standard of entries we received. However, we have chosen the six ambassadors as they meet the criteria to help challenge the stereotypes about Essex women as well as for the excellent work they do within their communities and with underrepresented groups. They are all truly exceptional and inspiring women."