Back
Landscapes at Noon: Celebrating 200 years of Constable's Hay Wain
Saturday 23 Oct 2021 - Sunday 21 Nov 2021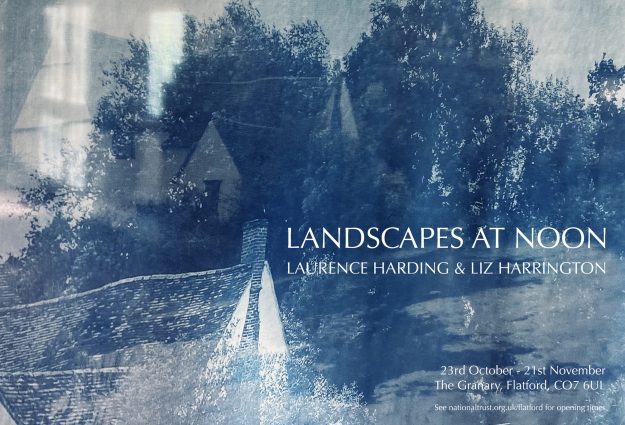 Landscapes at Noon is an exhibition of experimental photography at the National Trust in Flatford, which is the culmination of artists Liz Harrington and Laurence Harding's commission celebrating the 200th anniversary of John Constable's The Hay Wain and surrounding landscape.
Laurence Harding and Liz Harrington are photographic artists, whose work embraces experimental, historic and sustainable photographic practices. Inspired by The Hay Wain, and the parallels between photography and painting, the artists have explored themes of light and shadow, reflecting on memory, time and the spirit of place.
The project aimed to help diverse visitors to Flatford connect with Constable on their own terms; working with photography and an experimental approach, the project offered people an opportunity to rediscover Flatford, Constable and his creative process.
Throughout Summer 2021, the artists spent much time with visitors at Flatford Mill, creating an immersive and interactive installation that celebrates the idyllic views that inspired Constable. The finished piece is made up of floor to ceiling cyanotype panels inspired by the landscape, as well as photographs taken using pinhole cameras, and smaller pieces created using a range of other interesting photographic techniques, old and new.
Visitors and local community groups were invited to participate in the creation of the exhibition, through a series of pop-up workshops with the artists.
The project was commissioned by Essex Cultural Diversity Project and the National Trust, who have worked in close partnership over the last two years to increase broader community and visitor participation and awareness of key heritage and cultural assets in Suffolk and Essex. So far we have worked together to jointly commission artists to creatively respond to properties and collections at Flatford in Suffolk, Bourne Mill in Colchester, and Paycockes House and Grange Barn in Coggeshall.
Venue: The Granary Flatford, East Bergholt, Suffolk, CO7 6UL
Opening times: Daily, 23 – 31 October, 11am-3pm, and Weekends in November, 6, 7, 13, 14, 20, 21, 11am-3pm
For venue information, entry prices and parking, visit https://www.nationaltrust.org.uk/flatford/features/hay-wain-200-a-bigger-canvas
---
This commission is part of Essex Cultural Diversity Project's Arts Council NPO commission programme, funded by Arts Council England. It is the latest and third artist commission delivered in partnership with the National Trust, building on the success of commissions at National Trust properties in Coggeshall and Colchester.