Back
Chinese New Year Celebrations in Chelmsford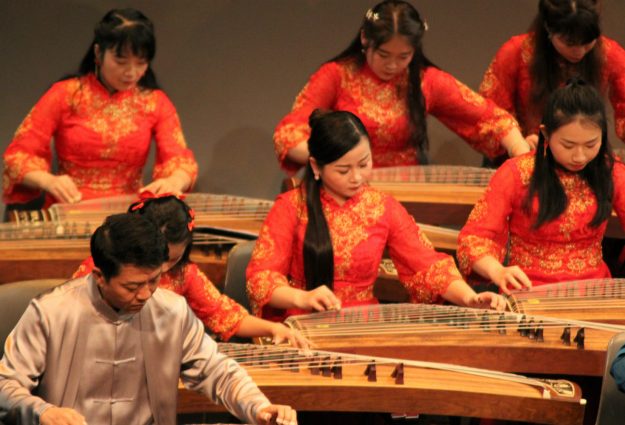 Chinese New Year Celebrations in Chelmsford 
Essex Cultural Diversity Project have recently forged a new partnership, hosting the Guzheng Masters and their students from China for the Chinese New Year Celebrations in Chelmsford, Essex this January.
Filled with inspiring dance, art and culture, this vibrant celebration marked the start of the Year of the Rat, and was one of the opening activities for Essex 2020: Year of Science and Creativity. The Guzheng, also known as a Chinese zither, is a Chinese plucked string instrument with a more than 2,500-year history.
A delegation of 25 people from Yuexiu District, Guangzhou visited the UK for nine days. They were hosted by Essex Cultural Diversity Project and Colchester Chinese Culture Society, and performed at the Civic Theatre in Chelmsford, alongside locally based talent. The event was also supported by Chelmsford City Council.
Indi Sandhu, ECDP's Creative Director said "it was a great privilege to support the Chinese New Year celebrations in Chelmsford and working with a range of partners to make it a very successful event. We are keen to forge more collaborative ways of working with our strategic partners Chelmsford City Council to deliver a wider and more diverse programme, focused around the arts and heritage sector in Chelmsford"
Plans for the Festival of Colchester & China 2020
Essex Cultural Diversity Project is collaborating with Colchester Chinese Culture Society to deliver the Festival of Colchester & China in 2020, working with a range of partners in the arts and heritage sectors to celebrate the cultural and heritage links between Essex and China. The event will engage and celebrate the large established Chinese community in Essex, particularly in and around Colchester.
More images of the Chinese New Year Gala 2020 can be seen on our Flickr archive. Images: photographer Cao Tingting, courtesy of Colchester Chinese Culture Society