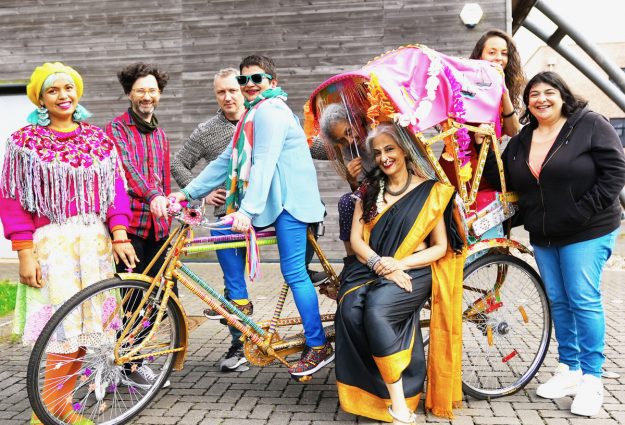 Let's Get Active
Working with Active Essex to help diverse communities during the pandemic
Essex Cultural Diversity Project's remit has always been to support creative professionals and organisations working in diversity, arts and heritage. We champion work that explores culture, fosters understanding and brings communities together. During the Coronavirus crisis, this work continued to be our imperative. The pandemic triggered an unprecedented emergency across the world, isolating individuals and communities already marginalised and vulnerable.
In 2020-21, Active Essex received Tackling Inequalities funding from Sport England and invited us to work with them, to help deliver onward grants to diverse community organisations. We worked with 15-20 diverse led community organisations across Essex, Southend and Thurrock to support a programme that encouraged a wide range of diverse communities to actively participate in physical activities through online platforms, indoor and outdoor sessions. We collaborated with a range of culturally diverse practitioners who have worked with ECDP over the years.
Here is a video from Active Essex, which gives an overview of some of the projects supported by the Tackling Inequalities Fund.
"We have forged an excellent partnership with Active Essex to support diverse communities in Essex, Southend and Thurrock who have been severely affected by the COVID-19 pandemic. Through our Let's Get Active physical activity programme we ensure that funding and resources are available to diverse organisations to deliver these sessions and engage with their communities" Indi Sandhu, ECDP Creative Director
Planned activities included cycling on an Indian Rickshaw by artist Lata Upadhyaya in Purfleet; Ribbon dancing with the Chinese Colchester Culture Society in Tendering; capoeira and samba classes delivered by BrazilArte in Southend. There was also be Bollywood Dance with communities from the South Asian communities; Bhangra Aerobics with Hindu and Sikh Punjabi Community; African Djembe Drumming and Dance; Tai Chi Classes; Jiu Jitsu; Yoga WellBeing classes and Walking Groups along Shoeburyness, Southend on Sea, Jaywick and Clacton.
The aims of the project were to:
support funding for community groups to find new ways of keeping diverse communities active during this time
offer advice and training support with online equipment and delivery
introduce Active Essex to diverse organisations to create long-term relationships
increase resilience, capacity, and capability for Essex-wide diversity-led organisations