Back
Arts at the Allotment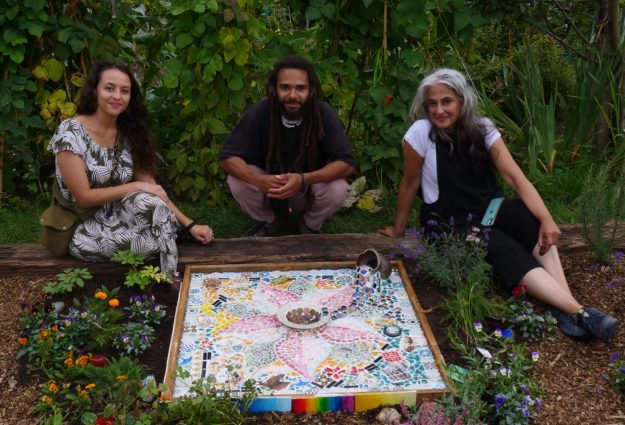 In Summer 2021, Essex Cultural Diversity Project worked with Healthy Living Centre Dartford to deliver Arts at the Allotment, a creative project at the Cedar Road Allotment, the community plot in the heart of Dartford's Tree Estate.
Arts at the Allotment focused on a range of diverse communities who live on the Tree Estate, linking people to nature using creative participation and engagement. Since the start of the COVID-19 pandemic, many residents have been severely affected due to underlying health issues, isolation, and shielding. Through consultation with these communities, we are keen to support mental and physical wellbeing by linking the arts with nature and outdoor green spaces.
The project was led by Story Narrative Specialist Seema Anand, working with Herbal Artists Lora Aziz and Marley. Stories collected during the project fed into a Mandala Artwork on the allotment, made from materials and objects belonging to local residents.
The project engaged participants from diverse communities who have limited access to the arts, as identified during the research for Creative People and Places, a major programme run by Arts Council England to enable more people to experience and be inspired by the arts.
---
Sharon Philips General Manager leads Healthy Living Centre Dartford said 'this is an excellent opportunity for us to work with a major National Portfolio Organisation Essex Cultural Diversity Project to engage with local diverse communities to participate in the arts through open and green community spaces in the heart of the Tree Estate'

Indi Sandhu Creative Director and CEO said 'we have years of experience working with various communities from all backgrounds; this project will enable us to work closely with Healthy Living Centre Dartford to support them in reaching out to these communities through workshops, performances and a finale event with established diverse artists'.
---
Arts at the Allotment was funded by Arts Council England and supported by Essex Cultural Diversity Project.