Back
GAP: The Global Arts Project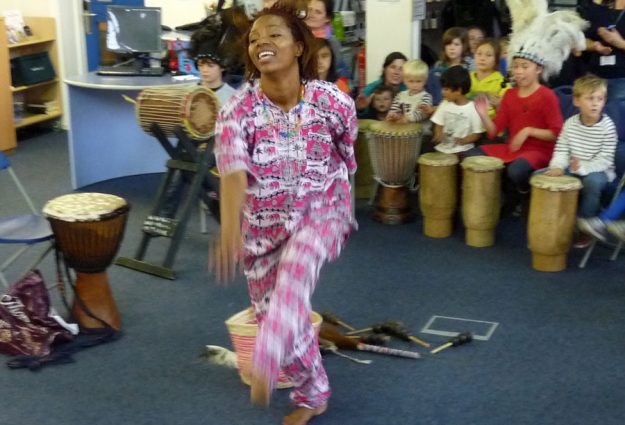 The Global Arts Project (GAP) took place in Autumn 2020 and encouraged Year 5 and 6 pupils across Tendring to be active members of their community, learning about different cultures and promoting community cohesion. The programme took place in seven primary schools across the district and focused on the theme of Cultural Awareness.
The initiative has seen workshops on African storytelling, drumming and singing from artist Anna Mudeka, delivered during Black History Month this October. There was also Bollywood dance, Chinese calligraphy, and an opportunity for children to meet Syrian refugees.
Workshops were followed by sessions delivered by published author Anita Belli and Artist Claire Driver, who captured the children's experiences and responses to their learning throughout the project using drawing and the written word.
The project was made possible through funding by Essex County Council Virtual Schools and supported by Tendring District Council.
---
The project focused on three main themes:
Wellbeing – Through our project we provided in depth awareness of other cultures and traditions and promoted cultural harmony through a wide range of activities/workshops and encouraged participation and engagement.
Creativity –The project inspired and motivated children's creativity – allowing them to find their voice and open their imagination – as well as give them a space to explore challenging themes more openly outside of the classroom environment. It has also built skills such as confidence, resilience, and self-esteem.
Mental Health – Our project provided Art and health workshops in educational settings led by artists and musicians which delivered health benefits through participatory arts programmes and arts engagement in everyday life.
The Global Arts Project (GAP) project was aimed to encouraging children below senior school age to become more involved in their community and take pride in the area in which they live in.
Involving years 5/6 primary school children, the overall theme was Cultural Awareness and by being part of the project children will hopefully deliver the message to friends and families about their understanding of the differences between themselves and other backgrounds, especially differences in attitudes, traditions, customs, and values.
One of the many benefits of developing a sense of cultural awareness is that we learn to recognise and understand that we all have different values, shaped by our diverse cultural backgrounds. What we consider to be 'normal' behaviour in one country can be entirely different in another. By being respectful of others and accepting people's opinion, rights, and feelings – even when they are different to our own – allows us to develop more as an individual.
In total, sixteen schools are taking part in the project: seven during autumn 2020 and nine during summer 2021. Involving 530 primary school children, this number included a percentage of looked after children.
Following this the pupils enjoy a programme of cultural activities that include:
A Bollywood Dance session which is enjoyed by the pupils, teachers, and the wider school community.
A presentation on Chinese Culture, followed by a workshop that teaches the children the art of Chinese Calligraphy.
An interactive workshop delivered by Refugee Action – Colchester, that includes an account, delivered by a Syrian refugee, of what it is like to flee your country to another that is not your own. This proves to be a very emotive, thought provoking session, for both the pupils and school staff alike.
---
Black History Month
Partnership working is a valued commodity within this project and during 2020/2021, Tendering District Council enhanced the delivery of the workshop sessions and specifically, during October, activities that centred on Black History Month.  Focusing on the African culture, artist Anna Mudaka engaged with the children through African storytelling and dance. This brought to life the sense, sound and understanding of this colourful, vibrant culture and the children learnt from and enjoyed the interactive workshops. (see attached pictures). Feedback on these sessions has been positive with some schools commenting that these activities linked to and supported relevant work that the children were involved in during the academic year.
---
Capturing, thoughts and responses
All the workshops were followed by sessions delivered by published author Anita Belli and Artist Claire Driver, who work to capture the children's experiences and responses to their learning throughout the project in the written word and drawings.
Throughout the project the children would be encouraged to: develop their skills, document activities, record their experiences and, as the project ends, discuss what they feel that they have learnt overall.
As regards effectiveness, feedback from the schools is positive from both staff and pupils and it has been acknowledged that the project is enabling the children to:
Gain an understanding of community and how they can influence change within it.
Learn about and consider other cultures.
Become ambassadors for cultural awareness within their community.
Positively engage with others of all ages
Encourage young people to take a stand against bullying, hate crime and racism.
Seven schools took part in the project in the Autumn 2020 and another 8 schools will take part in Summer 2021. We had to divide the project over two terms Autumn 2020 and Summer 2021
Another 8 schools have expressed a keen interest to take part in the Summer GAP Project from May to July 2021 with a large finale celebration open to all pupils from all year groups to taken art in the final event.
---