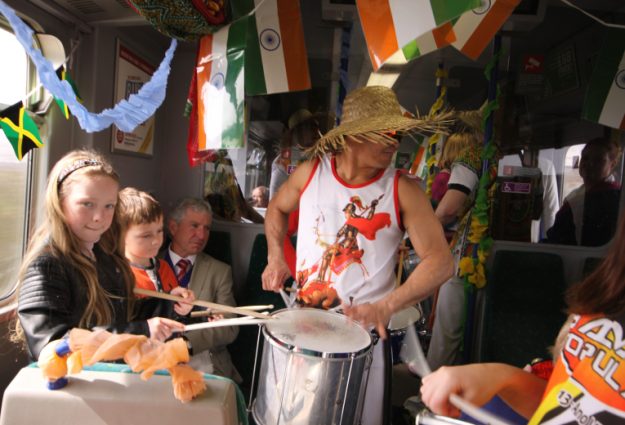 The Music Train was run by the Essex and South Suffolk Community Rail Partnership between Wickford and Southminster, and was supported by Essex Cultural Diversity Project.
Over 300 passengers, young and old, climbed aboard the two sell-out Music Train events, which ran along the Crouch Valley Line. The Music Train saw scores of children treated to a wide range of music and dance, from Bollywood to Kora, from Samba to Djembe drumming.  With traditional Indian food and henna hand painting on the platform at Wickford, there was something for everyone.
Cllr Hume, Chairman of Essex County Council, who attended the event with his grandchildren said:
This was a fantastic event for adults and children alike and was a great way to demonstrate how easy it is to explore Essex on one of our five branch lines. I would encourage families to take part in the other upcoming activity trains taking place throughout the rest of the year.
The project was funded by Arts Council England and Essex County Council Cultural Development Team.