Back
Working with Schools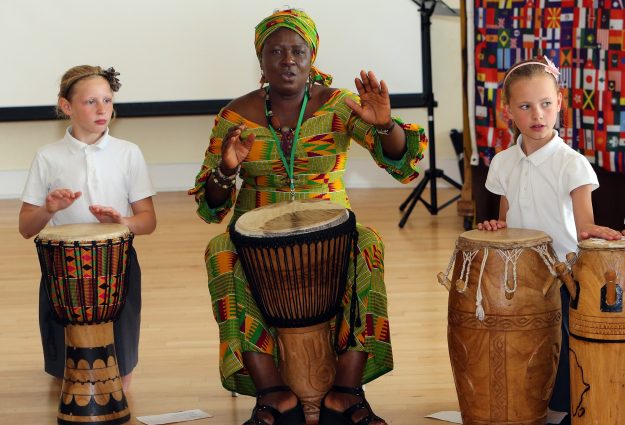 Essex Cultural Diversity Project has been engaged in education and working with schools regularly over the last ten years, and are continuing to develop this area of our work in Essex.
We support schools in developing a strong creative curriculum approach, particularly within the Primary setting, and this can only help to engage a broader more diverse audience, participants and of course practicing artists. Working with pupils also helps to engage families, as we have seen with many of our projects, and this directly supports broader arts participation in communities that are traditionally least likely to engage with the arts. This area of work also helps us raise the profile of diverse artists in Essex Southend and Thurrock, underlining the benefits of collaboration to achieve educational, social and artistic outcomes.
We offer support for World Music projects in schools through the Essex Music Education Hub, providing assistance, advocacy and introductions for music practitioners and artists who are working on Arts Award projects with schools and other arts, creative and music organisations.
Essex Cultural Diversity Project has an excellent relationship with the Royal Opera House (ROH) Bridge and we are well placed to support the developing and future work of the Cultural Education Partnerships, engaging them with the Salon programme and other events, and ensuring that diverse artists are engaging with schools where opportunities exist. This work has been influential in identifying where opportunities exist for ROH Bridge to play a role in developing provision in the arts and cultural sectors focusing on culturally diverse content, and which organisations offer potential as partners in developing this.
We also play an important role in ensuring that BAME artists are achieving Arts Award training across Essex. In 2016-17 we supported 20 BAME artists to get training and have promoted the opportunities at Salon and other events. We will continue to support at least 20 BAME artists in 2018 to undertake Arts Award training by providing venues, mentoring for artists and support for getting started after training.