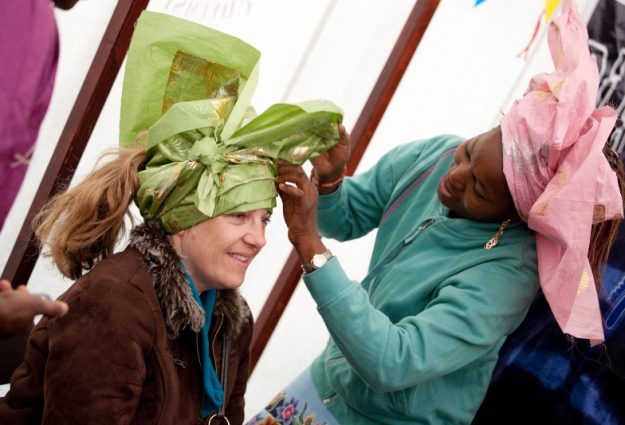 One World One Essex was a celebration of cultural diversity in Essex, through the stories of various individuals and families who live in the county.
The project took place in 2010 with a touring exhibition, accompanying exhibition booklet, oral history recordings and an exciting series of events. Events included a Debate on Cultural Identity for Essex Book Festival, and a Global Gala in Chelmsford's central park with music, dance, crafts and food to celebrate the many different cultures in Essex.
For centuries people have migrated to Essex. Almost everyone who lives in Essex has come from another land or culture. You could descend from Roman invaders or their families and slaves or Anglo-Saxons or Normans or even the Dutch. Your family could have come here from another part of Britain or Ireland, or you may have come in more recent times from one of the countries that were part of the British Empire. Whatever your family's journey, you are here.
---
Our Family Stories
Read & Listen: combining oral history and storytelling
One World One Essex brought together a mix of different stories from seven communities living in Essex, their journeys, lives and experiences. These were featured in a touring exhibition with an accompanying booklet. Their stories were also recorded, narrated by Storyteller and Narrative Specialist Seema Anand, to be permanently archived at Essex Record Office in Chelmsford. These diverse voices have therefore become an important part of the oral history of the county.
Pots are central to all world cultures, whether it's for cooking, storage or ceremony. For One World One Essex, each family story was accompanied by an image and description of a pot relating to that culture, and on the audio recordings each oral history is followed by a folk tale inspired by pots from the family's cultural background.
We invite you to listen to each families' stories below, interlaced with folk tales from around the world, and read the full exhibition booklet alongside the audio recordings.
---
Other individuals involved in the project
This diversity of people from around the world has created colourful communities, which are ever growing and changing and with it so is the heritage and stories of Essex people:
Ryszard Rzepka lives in Southend and works as a mechanic in a factory. He came from Poland in 2005.
Sushila Karia moved to Clacton-on-Sea in 1974. She teaches ICT at the Adult Community College and helps run the Ram Mandir with her husband Dhirajlal.
Rizwana Siddiqui came to Essex from Sharjah, United Arab Emirates in 2002 and settled in Chelmsford. She works for the Mid-Essex Primary Care Trust
Marion Wynn lives in Chelmsford and works as a Digitiser at the Essex Record Offi ce. Her job is to ensure that historical documents and photographs are digitised for public use.
Henrietta Fung is the Centre Manager for the Harlow and District Chinese Community Centre. She came from Hong Kong (which now is a special administrative region of the People's Republic of China) in 2004.
Jeffery Porter came to Essex from Jamacia, Spanish Town in 2002. He is now a poet and artist living in Pitsea, Basildon and works full-time as a support worker.
---
"This is a wonderful thing to be happening in Essex. Our culture is everywhere you look and I hope this raises awareness of the myriad of events taking place in Essex everyday, so that more people can enjoy them" Jeremy Lucas, former County Councillor and Cabinet Member for Heritage, Culture and the Arts