Back
Roar! A radical quilting project
Saturday 14 Jan 2023 - Wednesday 29 Mar 2023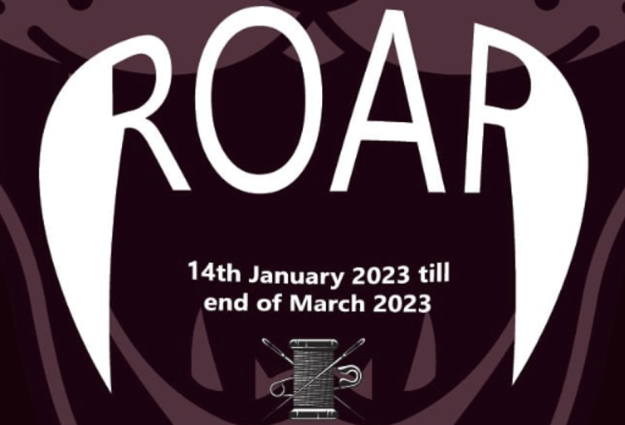 Roar!
Take part in a radical quilting project
14 January – 31 March 2023
You are invited to take part in Roar! a radical and collective quilting project run by Eye of Boudica to celebrate Women's History Month in March 2023.
The aim of Roar! is to create a large-scale community collaborative quilt, with each square created by a resident in the town, representative of your experiences as a woman and/or the women who came before us. Here are the guidelines:
Each square will be 4 x 4 inches (creating a 16 inch square to represent the 16% gender pay gap)
You can embroider, paint, weave, knit, crochet, any form of fabric art you like
Produce your own square at home, in the community, or in your sewing, knitting and craft group
Feel free to join squares together to accommodate your group ideas so long as the dimensions are in multiples of 4 inches
Please be aware that due to the nature of the spaces where the quilt will be displayed, we cannot include explicit, party-political or religious pieces
Anyone who identifies as a woman is welcome to take part and any trans-exclusionary content will not be accepted.
To tie in with their BIG WOMEN exhibition, Firstsite will be the drop off and collection point for the project, so pop into the gallery to collect blank squares of fabric and/or return the finished piece for the quilt, along with your name, contact details and short description about your piece.
If you want more information or want to talk about the project, get in touch:
---
The project is part of a series of events and activities in Colchester to mark International Women's Day 2023. Partners and supporters include Eye of Boudica, Essex Cultural Diversity Project, Firstsite, the Mercury and Essex Book Festival.
---
BIG WOMEN
Firstsite, Lewis Gardens, High Street, Colchester, Essex, CO1 1JH
Saturday 11 February – Sunday 18 June 2023
https://firstsite.uk/event/big-women/
Join Firstsite for a BIG exhibition celebrating the creative achievements of women in art!
Curated by one of Britain's most significant contemporary artists – Sarah Lucas – and featuring the work of over twenty high-profile female artists, the BIG WOMEN exhibition will include a variety of works that will make you think, laugh and reflect on the role women play in the creative world.
Works included in the exhibition will range from sculpture, painting, film to fashion, with works by artists including Renata Adela, Erica Åkerlund, Fiona Banner aka The Vanity Press, Kate Boxer, Yoko Brown, Angela Bulloch, Phillippa Clayden, Sonia Coode-Adams, Vanessa Fristedt, Maggi Hambling, Pam Hogg, Rachel Howard, Merilyn Humphreys, Patricia Jordan, Princess Julia, Abigail Lane, Tory Lawrence, Millie Laws, Polly Morgan, Clare Palmier, Georgina Starr, Milly Thompson, Gillian Wearing, Sue Webster, and Lucas herself.
Inspired by conversations with friends and fellow artists, BIG WOMEN explores the questions and themes relating to womanhood, of societal expectations surrounding age, beauty, fashion and identity; celebrating women's myriad achievements in the arts.
"So much emphasis in our culture is on youth. When the media wants to arouse our sympathy it's all about children. The fashion and advertising media concentrates on young female beauty. The older woman is often overlooked, irrelevant, without currency. We live in an increasingly ageist society and this affects women disproportionately.

I see BIG WOMEN as both an endorsement and a celebration of women's achievement in the creative field. It aspires to be thought provoking, funny, serious, attractive and fun. God knows we need it in these times dominated by male aggression, politicking, greed, war and pig-headedness."

– Sarah Lucas
The exhibition has been made possible with support from Sadie Coles HQ, The Ampersand Foundation, The Coode Adams Firstsite Trust, and YesColours.