Back
EVEWRIGHT BHM Coach Tour: London > Tilbury > Colchester
Saturday 28 Oct 2023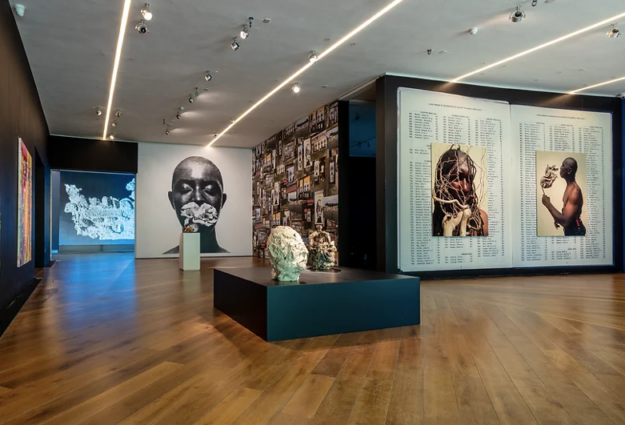 EVEWRIGHT: LIBATION
BLACK HISTORY MONTH COACH TOUR
Saturday 28 October
Enjoy a day trip from London to Tilbury Bridge Walkway of Memories and then on to Libation at Firstsite Gallery.
Evewright Arts Foundation will transport you on a day of art and culture celebrating Black History Month, featuring Artist EVEWRIGHT and performers. You will travel by coach from London for an artist tour of Tilbury Bridge Walkway of Memories, then to Firstsite in Colchester to experience exhibitions, art, film, poetry and more.
Image: Libation (c) EVEWRIGHT ARTS FOUNDATION
Coach Price £25 for Adults and £15 for Children
Free entry to the exhibition and tours
Food will be available to purchase on the day
Only 52 Places available, so booking essential
---
ITINERARY
First stop is:
AN ARTIST GUIDED TOUR OF TILBURY BRIDGE WALKWAY OF MEMORIES AT TILBURY PORT ESSEX
Tilbury Bridge Walkway of Memories is a site-specific art installation, comprised of images, documents, audio recordings and memorabilia adorning the bridge that passengers of the Empire Windrush first walked across as they entered Britain in 1948.  Attending the live tour will give you an insight into how the installation was created and extra stories about the lives of the people who's photographs and documents are exhibited within the installation. This art and sound installation may invoke a multitude of emotions. Visitors are invited to download a copy of our Exhibition Guide on arrival to the art and sound installation. Scan the QR code situated on the poster at the entrance of the exhibition with a summary of each story and links to the audio.  You can also access the stories by  scanning the QR codes on images across 22 listening windows placed throughout the installation. (Please bring your own device and ear/headphones).
Visitors will also receive a free copy of Tilbury Bridge Walkway of Memories Legacy Publication.
Read more at www.evewrightarts.org/tilbury-walkway
Second stop is:
EVEWRIGHT: LIBATION (Firstsite Gallery Colchester)
Libation is the first solo exhibition by the acclaimed British artist EVEWRIGHT, showcasing a collection of new and seminal works spanning 20 years. Libation features drawings, sculptures, digital films, performances and photography which challenges narratives and themes about migration, identity race and class. It also includes a major new floor drawing artwork from the front to the back of the Firstsite building.
Free children's workshops in the gallery
Artist led tours exploring the exhibition's themes
Live poetry performance
Food available to purchase
Find out more at www.evewrightarts.org/general-8-3
---
For more information and to book visit www.evewrightarts.org/events/black-history-month