Back
The Black Prince Watch Along
Sunday 14 Jun 2020 2:00 PM - 5:30 PM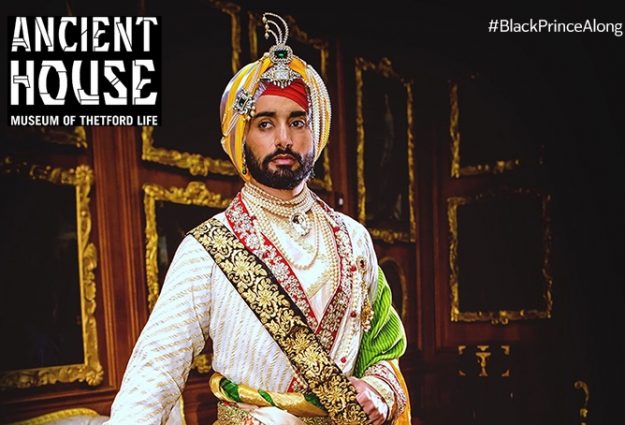 The Black Prince Watch Along
The Black Prince Watch Along was a special afternoon, inviting audiences around the world to collectively watch the film The Black Prince, and then join us for an online discussion with some fabulous guests, including Satinder Sartaaj (live from Punjab, India) who starred as Maharajah Duleep Singh in the film.
Audiences were invited to press 'play' on the film on their own DVDs if they had them, via Netflix, or other streaming services (a full list of online places where The Black Prince is available can be found at theblackprince.com). As the film aired, viewers tweeted along using the hashtag #BlackPrinceAlong, while Ancient House Museum, Sikh Museum Initiative, Essex Cultural Diversity Project and friends shared historical facts, objects and perspectives linked to the real story behind the film.
This was followed by a live panel discussion on Zoom, streamed live on Facebook, with a panel hosted by Melissa Hawker from Ancient House Museum, Thetford. Our very special guests on the panel included:
Satinder Sartaaj, singer and actor who played Maharajah Duleep Singh
Rup Magon, actor who played Aroor Singh
Jasjeet Singh, Producer of the film
Peter Bance, Sikh Historian and author
Gurinder Singh Mann, Historian and Director of the Sikh Museum Initiative
Indi Sandhu, Director of the Festival of Norfolk & Punjab and Artistic Director of Essex Cultural Diversity Project
There were opportunities to ask questions and discuss all details of the film.
---
WATCH AGAIN
ICYMI (In case you missed it!)
To watch the film:
A full list of online places where The Black Prince is available can be found at theblackprince.com under 'Watch Now'. Please note that you may be asked to subscribe to streaming services and/or payment may be requested.
To watch the post-film discussion on Facebook:
Watch via facebook.com/sikhmuseum.org.uk
---
About the Film
The Black Prince is a 2017 international historical drama film directed by Kavi Raz and features the acting debut of Satinder Sartaaj. Film maker Kavi Raz's The Black Prince depicts the troubled life of Maharaja Duleep Singh, the last king of Punjab whose kingdom was taken from him by the British in the 1840s. Duleep Singh was separated from his mother and brought to England where he was befriended by Queen Victoria. He was allowed to return to India only twice under controlled circumstances and tried to regain his kingdom in later life.
---
This event was part of the Festival of Norfolk & Punjab, postponed until 2021 due to the Coronavirus. The event is hosted by Sikh Museum Initiative in partnership with Ancient House Museum, Essex Cultural Diversity Project and the Anglo Punjab Heritage Foundation.