Back
Black History Month in Suffolk
Sunday 1 Oct 2023 - Friday 27 Oct 2023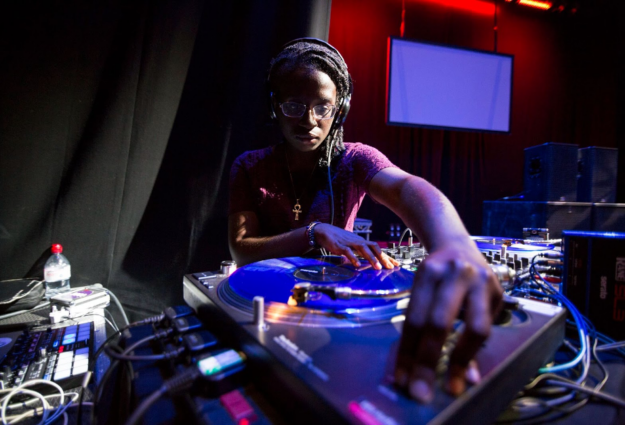 An overview of BHM events in Suffolk
Organised by friends and partners across Suffolk
---
Suffolk Windrush Exhibition
Runs now until 15 October
The Hold, Suffolk Archives 131 Fore St, Ipswich IP4 1LN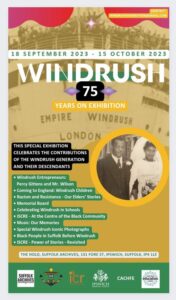 ---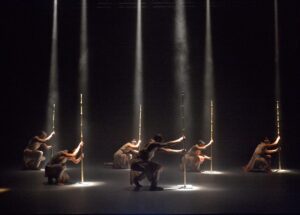 UNKNOWN REALMS: ACE Dance and Music
Friday 6 October 7.30pm
Dance East, Jerwood Dancehouse, Foundry Lane, Ipswich, IP4 1DW
UNKNOWN REALMS is a double bill that transcends the past and present. Rooted in African and contemporary culture, ACE Dance and Music collaborate with two internationally acclaimed Black male choreographers Serge Aimé Coulibaly and Vincent Mantsoe. UNKNOWN REALMS evocatively shows us a picture of the world and what is happening NOW, performed against dynamic multidimensional soundscapes by Andy Garbi and Yvan Talbot, the two stunning contrasting works examine the past and present with consciousness and contemporary sensibility. Six dancers rise from the ashes with powerful explosive dance that uncovers the rich history of lives lived; memories, human struggle and people letting go. An all-embracing, multi-layered production that celebrates sheer mortality, perseverance and hope overcoming adversity.
---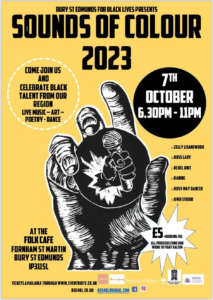 Bury St Edmunds for Black Lives presents
Sounds of Colour 2023
7 October 6.30-11.00pm
F O L K C A F É, The Drift, Fornham St Martin, IP31 1SL
Prepare to be captivated by a diverse line up of talented artists, showcasing their unique blend of music and creativity. From Rap to Dance from the Islands, this event promises to be a feast for the senses. Our belief is that the power to unite humanity and make peace rests within artforms that break stereotypes and bring diverse communities together. By bringing people together we can locate stumbling blocks to inclusivity and work on fixing it together. This event will bring together different sections of the community and will encourage participation, see how you can incorporate positive change, promote racial inclusivity and equality in your daily lives or business, by meeting the Bse4bl team. Find out how you can volunteer, become involved or support our work. This event will facilitate the types of connections to fight racism, open up the space for dialogue about race, encourage social action and engagement. All proceeds from this event will help fund our anti-racism work within the community.
---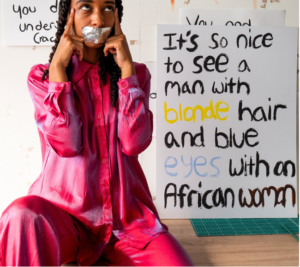 Visual Art Exhibition / Opening / Performance
JMCAnderson's 'Crazy Coco'
Exhibition runs 7 Oct – 4 Nov
Opening: Saturday 7 October 4-7pm
303 Projects, London Road South, Lowestoft, NR33 0DX
Come along to JMCAnderson's first solo exhibition 'Crazy Coco'. JMCAnderson presents an insight into racial terminology from her childhood and adulthood, a continuation of a body of work that started in 2022. For this exhibition Anderson presents both old and new works, including a performance called 'Crazy Coco'. Exploring internalised racism as a direct product of a racial classification system and the effects it has had on both her physical and mental health.
Image @tallulahself photography
www.303projects.com/ | facebook.com/threehundredandthreeprojects | instagram.com/303_projects
---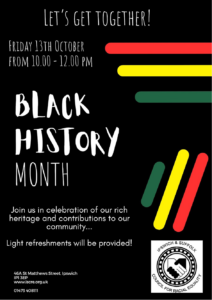 Ipswich and Suffolk Council for Racial Equality
BLACK HISTORY MONTH – Let's get together!
Friday 13 October 10.00 – 12.00pm
46A St Matthews Street, Ipswich, IP1 3EP
Join us in celebration of our rich heritage and contributions to our community.
Light refreshments will be provided
www.iscre.org.uk
01473 408111
---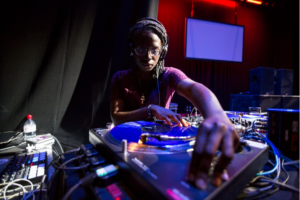 SPILL Festival: DJ NikNak
Saturday 14 October 8.30pm
SPILL Hub, St Stephen's Church, Ipswich IP1 1DT
"NikNak is the first Black Turntablist to win an Oram Award in 2020 and regularly pushes boundaries on what the turntables are capable of."
Described as a 'musical polymath' by Clash Magazine, NikNak is a DJ, multi-disciplinary artist and music creative. NikNak has shared the stage with the likes of Mr Scruff, Lefto Early Bird, Jamz Supanova, Grandmaster Flash and many other notable artists. Recognised as one of DJMag's 'Ones to Watch' in 2022, each NikNak set is expansive, unique, ambitious, genre-defying, and serves as a testament to her sponge-like musical knowledge. She will join us for a special set alongside young DJs from Girls Where You At, a Future Female Society programme for 11-19 year old girls that builds confidence and aspiration through radio, music, video production, performance and more.
---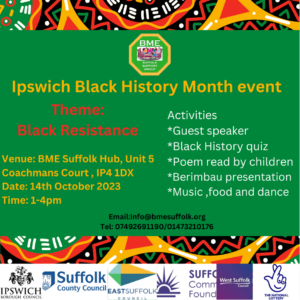 Ipswich Black History Month Event
Theme: Black Resistance
Saturday 14 October 1- 4pm
BME Suffolk Hub, Unit 5, Coachmans Court, IP4 1DX
BME Suffolk Support Group presents an afternoon of activities including a guest speaker, Black history quiz, poem read by children, berimbau presentation, music, food & dance.
For more info contact info@bmesuffolk.org 07492 691190 / 01473 210176
---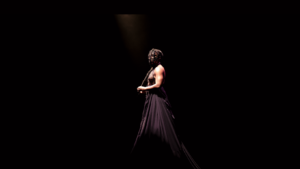 Inscribed in Me – Alethia Antonia
Saturday 20 October 7.30pm
Dance East, Jerwood Dancehouse, Foundry Lane, Ipswich, IP4 1DW
Choreographed and performed by Alethia Antonia, Inscribed in "Me" is a dance performance that uses movement, voice and music to explore both personal and historical experiences related to boundaries of feminine blackness and self-authorship. Inscribed in "Me" is a journey of self-discovery and healing; a journey that is both deeply personal and universal.
---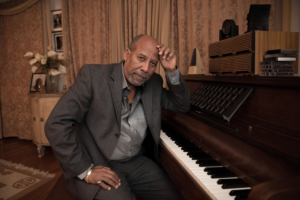 Hailu Mergia plus Support
SPILL Festval
Friday 20 October 9pm (Doors open 8:30pm)
St Stephen's Church, St Stephens Ln, Ipswich IP1 1DP
In mid-1970s Ethiopia, as the political tides changed toward authoritarianism, Addis Ababa's cosmopolitan, soul-fuelled nightlife was in full swing. Hailu Mergia and the Walias Band were the jazz pioneers at the very centre of this 'golden age' of Ethiopian popular music, providing the soundtrack to 12-hour all-nighters for the diplomats, power brokers, movie stars and regular club-goers seeking refuge from government-enforced curfews. Now based in New York and in his sixth decade of musical activity, Hailu Mergia and his band come to Ipswich this October to tour their latest album, Yene Mircha ('My Choice' in Amharic). The record has been celebrated worldwide, including by the New York Times, BBC, and Pitchfork, who called it 'triumphantly in the present'.
---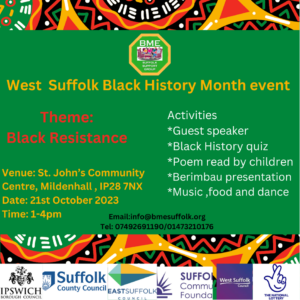 Ipswich Black History Month Event – Theme: Black Resistance
Saturday 21 October , 1- 4pm
St. John's Community Centre, Mildenhall, IP28 7NX
BME Suffolk Support Group presents an afternoon of activities including a guest speaker, Black history quiz, poem read by children, berimbau presentation, music, food & dance.
For more info contact info@bmesuffolk.org | 07492 691190 / 01473 210176
---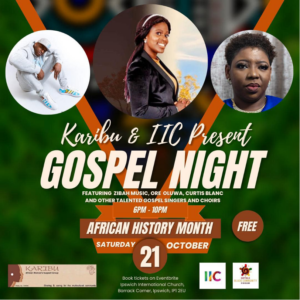 Gospel Night
Saturday 21 October 6-10pm
Karibu African Women's Support Group and International Church (IIC)
1 Burlington Road Ipswich IP1 2EU
Join Karibu and International Church for an incredible night of soul-stirring music and uplifting performances at Gospel Night! This in-person event will be held at the IIC, Burlington Road, Ipswich, UK. Get ready to be moved by the powerful voices and passionate melodies of renowned gospel artists. Whether you're a fan of gospel music or simply looking for an inspiring evening, this event promises to be a memorable experience. Come and celebrate the joy, hope, and spirit of gospel music with us at Gospel Night!
---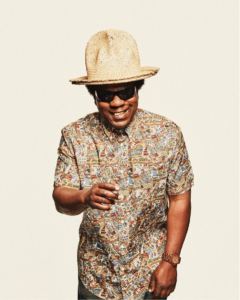 Snape Sessions: Norman Jay
Saturday 21 October 7:00pm until midnight
Britten Studio, Snape Maltings, Snape, Suffolk, IP17 1SP
For the second installment of Snape Sessions, we welcome one of the finest and most respected DJs working today. Throughout the late 90s and 00s, Norman Jay built a reputation as one of the world's most popular DJs, taking the underground sounds of rare groove and house firmly into the mainstream. He remains at the forefront of club culture, continually converting generations of clubbers to the cause, championing new sounds, yet never forgetting his musical roots. A night with guaranteed 'Good Times', Norman will be supported by Tadi the Great and IssyB. Snape Sessions are different to our usual concerts – they are standing gigs, you're free to come and go and the bar will be open throughout. Think of it at as a club night, that ends at midnight! Check out the photographs from the sell-out inaugural Snape Sessions with Gilles Peterson on our Instagram page.
Price: £28
Age Guidance: 18+Warning :
There will be strobe lighting at this event.
---
African Heritage and Culture Day
Wednesday 25 October 2023
Karibu African Support Group
Burlington Hall, Burlington Street, Ipswich
More Information to follow
---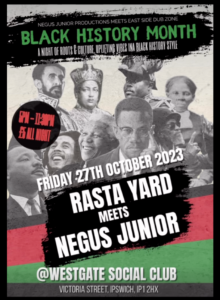 Rasta Yard & Negas Junior
Friday 27 October 5pm-11.30pm
Westgate Social Club, Victoria St, Ipswich, IP1 2HX
Negus Junior Productions meets East Side Dub Zone Sound Systems – A night of roots & culture in a Black History Style.
---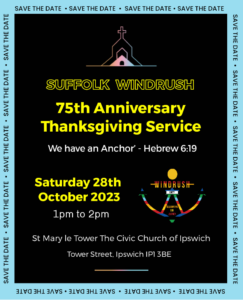 Windrush Thanksgiving Service
Saturday 28 October 2023 1-2pm
St Mary le Tower, Tower St Ipswich, IP1 3BE
www.facebook.com/suffolkwindrush
---
Cancer Prevention and Awareness Community Talk
Saturday 4 November 12.00-2.00pm
Bethel Apostolic Church, Luther Rd. Ipswich
Male and female interactive workshop sessions raising awareness of Cervical/Breast and Prostate/Testicular cancer in the Black community, and strategies to reduce risk.
Free event
Contact: Imani 07909 516 343
---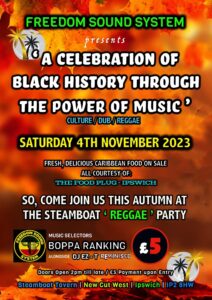 FREEDOM SOUND SYSTEM presents
A CELEBRATION OF BLACK HISTORY THROUGH THE POWER OF MUSIC
Saturday 4 November 2023
Steamboat Tavern, New Cut West, Ipswich, P2 8HW
CULTURE // DUB/REGGAE // FRESH, DELICIOUS CARIBBEAN FOOD ON SALE ALL COURTESY OF THE FOOD PLUG – IPSWICH // MUSIC SELECTORS: BOPPA RANKING SYSTEM ALONGSIDE DJEZ-T REMINISCE
COME JOIN US THIS AUTUMN AT THE STEAMBOAT
Tickets £5 on entry
Doors Open 2pm till late
---
Black Men's Health Support Group
Friday 24 November 6pm
CACHSF Offices
Crown Hall Chambers, 10 Crown Street, Ipswich, Suffolk, IP1 3LD
A safe and supportive space for Black men to share, celebrate achievements, support each other and to network.
Free
Contact: Imani 07909 516 343
---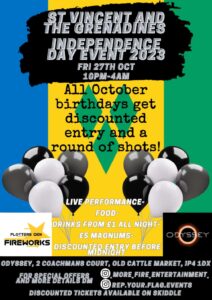 Saint Vincent and the Grenadines Independence Day Event
Friday 27 October 10pm – 4am
Odyssey, 2 Coachmans Court, Old Cattle Market, Ipswich
A six hour event in Ipswich to celebrate Saint Vincent and the Grenadines Independence Day.  This event is open to all nationalities but people from Saint Vincent and the Grenadines are encouraged to bring flags.
We are combining the energy and vibes of carnival with the spooky theme of Halloween so fancy dress is welcome.
We have multiple DJs and live music plus food and flags on sale all night. We also have a range of tickets available.
Find out more at https://www.skiddle.com/whats-on/
---
More listings to come!
Please get in touch if you have any events you would like promoted.