Back
Year of the Rabbit: Chinese New Year Gala in Dubai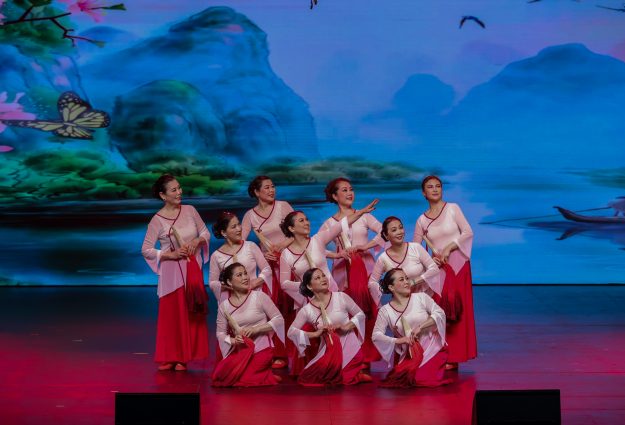 We were honoured to join the thousands who celebrated the 2023 Chinese New Year at Dubai Opera with a celebratory gala, an evening of colour, culture, community, and celebration.
The ninth UAE Chinese New Year (CNY) Gala took place at Dubai Opera on 8 January 2023, to celebrate the Chinese New Year on January 22, which brings in the Year of the Rabbit.
Colchester Chinese Culture Society (CCCS) based in Essex, performed alongside other Chinese performers from Dubai, UK, France, Japan, Singapore. Seven hundred artists, from ages 4 to 70, from China and other countries, presented 26 performances showcasing Chinese traditions.
The CNY gala performances explored the attributes of the forthcoming Year of the Rabbit, which is expected to be fluid, relaxing and contemplative. It included the pensive Erhu solo (a Chinese two-stringed bowed musical instrument, a spike fiddle), dancing with calligraphy, traditional Chinese opera, children's hip-hop dancing, Mongolian folk dancing, poetry, and piano solos. It was the largest CNY Gala in the UAE so far, and set the record for the highest number of participants for performances at the Dubai Opera. The event attracted an audience of nearly 2000 people.
The Chinese Ambassador of the People's Republic of China to the UAE, Yiming Zhang, and the Chinese Consul General in Dubai, Xuhang Li, attended the event, and Ambassador Zhang gave the opening speech wishing everyone a happy Chinese New Year. The event invited us to celebrate the long-standing friendship between China and the United Arab Emirates.
Chair of Colchester Chinese Cultural Society Simone Xue said "Dubai is an open cosmopolitan city, one that allows different nationalities and cultures to live in harmony and showcase the Chinese Culture to the highest standards. We are living in a great era that enables us to show off our talent to wider audiences internationally"
Colchester Chinese Culture Society were invited to take part in the selection process, and were successful in their submission. 12 dancers went to Dubai to perform on this international stage, traveling alongside Indi Sandhu, ECDP's Creative Director & CEO, and London based Chinese Choreographer and dance teacher Gong Qiutong, who is originally from Jiangsu Province.
This unique opportunity builds on the positive partnerships CCCS and ECDP have forged, following on from our visit to the Jiangsu Province in China 2018 funded by British Council (China), and this year's Festival of Tendring and Jiangsu 2022 at Harwich Arts Centre, which was organised by Colchester Chinese Culture Society and supported by Essex Cultural Diversity Project.
Indi Sandhu, Essex Cultural Diversity Project's Creative Director & CEO said "It is great to see guests from other nationalities attending this gala. I believe that cultural exchanges between various countries are important for promoting performing arts. The ninth UAE Chinese New Year Gala was a very good way for people to get to know more about Chinese culture, traditions and customs''