Back
The South Asian Collection Museum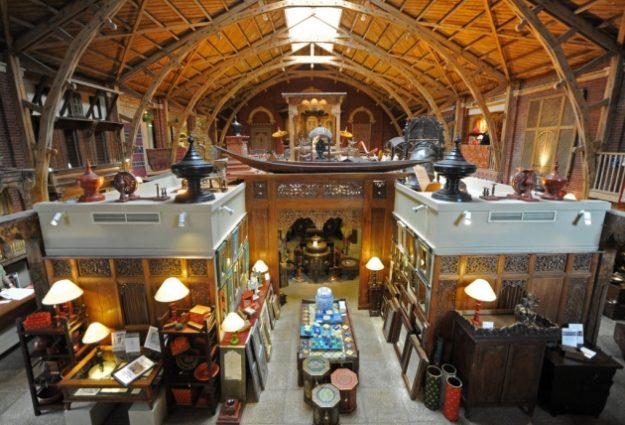 The South Asia Collection museum, located in the heart of Norwich has joined the Maharajah Duleep Singh Family East of England  Heritage Trail. The museum houses collections from the the north of India, Punjab region the land of Maharaja Ranjit Singh farther of  Duleep Singh.
The South Asia Collection began with the journeys of Philip and Jeannie Millward through South Asia in the 1970s. The first objects were shipped back from the Swat Valley and stored in a repository on Waterworks Road in Norwich.
Today, The South Asia Collection is an internationally significant museum collection of the everyday arts and crafts of the region. It includes embroidered, woven and printed textiles; paintings and prints from the 18th century to the present day; vernacular furniture; carved arches, doors and columns; votive figures; plus a wonderful collection of religious and domestic objects in metal, stone, wood, cloth and ceramic from the different communities and cultures of South Asia.
The South Asia Collection contains objects that have been collected from the 1970s to the present. This gallery presents some of the larger-in-size highlights of the Collection. It includes an array of vernacular furniture, carved doorways, architectural sculpture, reliefs of deities, a wedding litter, and paintings from across South Asia. A number of costumes from Central Asia are also on display.
---
Badshahi Mosque by Jack Merriott

This watercolour of Badshahi Mosque was made by Jack Merriott (1901-1968). Merriott is better known for his paintings of British Railway posters and the English landscape.
The Badshahi Mosque was completed in 1673 for the Mughal Emperor Aurangzeb. It is built directly opposite the Lahore Fort and was a symbol of the military strength of Aurangzeb. Built of red sandstone with white marble inlay, the mosque took only two years to complete but the building costs drained the Mughal treasury.
The Badshahi Mosque is an iconic building in Punjab, Pakistan. The minarets on each corner stand 60 metres high and the internal courtyard can accommodate 100,000 worshippers.
Philip and Jeannie visited Badshahi Mosque in March 1979, where they took this photograph. They were part way through a journey that began in Lahore and, over the course of several trips, finished in Karachi nine months later. During their time in Pakistan, Philip and Jeannie criss-crossed the regions of Sindh, Punjab and Khyber Pakhtunkhwa (formerly North West Frontier Province). As they travelled, they began to collect objects made my local craftspeople: carved woodwork in Swat, old copper and brass items sold by the kilo at the Lahore Bazaar and embroidered Sindhi shawls and phulkaris from the Punjab at the market in Karachi.