Back
ECDP Radio: The Braintree Music Project
In this episode of ECDP Radio, Nita Jhummu meets musicians involved in The Braintree Music Project, including Jonathan Mayer, Josh Doughty, and Sarah Goldsmith from Essex Music Hub. They share their music, and talk about how they worked with schoolchildren as part of the project.
The Braintree Music Project took place in 2022 when Essex Cultural Diversity Project worked in partnership with Essex Music Education Hub and Braintree District Cultural Education Partnership to deliver this exciting cultural diversity music project in schools. Seven creative practitioners worked closely with teachers in six schools across the Braintree district. The aim was to help young people to understand other cultures and traditions, pilot new ways of working that can be embedded into daily school practice, and develop a bank of teaching resources that can be shared with other schools. Find out more about the project at essexcdp.com/project/braintreediversity
---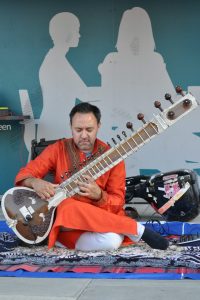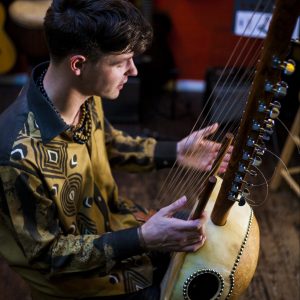 About Jonathan Mayer
jonathanmayer.co.uk
Sitarist and composer Jonathan Mayer's diversity within music has seen him play in many different settings and genres playing with artists from Sir Paul McCartney to The London Philharmonic Orchestra. His main instrument is the Indian sitar which he has played all over the world as a soloist and as a composer he has written for full orchestra to jazz ensembles.
About Josh Doughty
joshdoughty.co.uk
Josh Doughty began playing the kora, a west African 21-stringed harp, when he was eight years old. Over the past decade, Josh has collaborated with a number of leading musicians from Africa and Europe, including Sampha on his Mercury Prize winning album, Process. He has played at prestigious venues including the Royal Albert Hall, St James' Palace, the renowned Le Diplomate club in Mali and several UK festivals including Tribe of Doris, Tropical Pressure and Shambala. Winner of the World music category at the Welsh International Harp Festival in 2018, Josh also has been featured in Songlines Magazine and has delivered a TEDx talk on his life and his music. Now living in Bristol, UK, Josh teaches, plays and creates his own music. As well as teaching private students, Josh runs a regular workshop at Basel Music Academy in Switzerland and residential workshops in the UK as part of his co-founded venture, Korason Workshops. He also works with Live Music Now, providing music therapy to people in hospitals, care homes, hospices and special schools. Josh combines traditional rhythms with modern Western influences, composing pieces with an accomplished individual style that captivates his audience. His passion for this unique, complex and mesmerizing instrument earns him a rightful place amongst a new generation of kora players, and brings joy to all who hear him play.
instagram.com/joshdoughtykora |  facebook.com/joshdoughtykora | soundcloud.com/joshdoughty | spotify.com
About Essex Music Hub
essexmusichub.org.uk

Essex Music Hub is a partnership of organisations which support and provide access to high quality music making for young people across Essex. These organisations share what they do, communicate with each other and are committed to the highest quality of music education for children and young people. Our partnership serves to create the very best opportunities for children and young people to get involved in music making.
---