Back
Arooj Khan discusses her new project: Grays + Me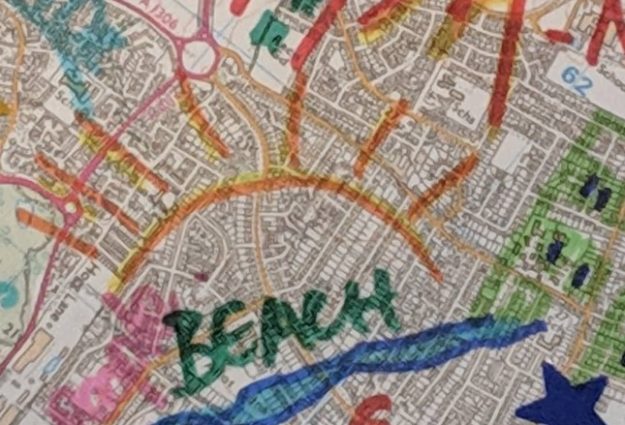 Arooj Khan from Artem et Populis discusses her latest ECDP funded project Grays+Me
with an invitation to the final exhibition 29 March – 4 April at Thameside Theatre, Grays
Launch event: Friday 29 March 6pm
If art is an invitation for conversation, then community arts has the potential to act as a space for radical dialogue (creating conversations that mobilise positive change).
This is the premise of Artem et Populis. Much in the same thread of a number of community arts organisations in the 1970s and 1980s, which created space for place-based discussions on the residents' terms (think Centerprise in Dalston and Chats Palace in Homerton).  Artem aims to provide a safe and inclusive space for members of the community to come together to create art and talk about issues that matter for them.
Artem has been awarded £6000 to facilitate an alternative mapping project of Grays entitled Grays+Me. The Grays+Me project arose from a need to observe, reflect upon the cultural and social diversity of Grays in the midst of ongoing regeneration, as perceived by residents across all social and cultural groups.
The premise of the project is to provide diverse residents with a safe space to think radically and critically about key issues within their local area, focusing specifically on their thoughts regarding the ongoing regeneration of Grays and how this may affect their ability to participate as a resident of the area. Underpinning these activities were conversations regarding the diverse social and cultural identities present within the area.
The project consisted of three workshop sessions with diverse groups of residents in order to co-design an art map, a memory map, a spoken word map and a sound map of the area. Essex-based artists Steve Lawes, Joe Garwood and Arij Mir were commissioned to help create the final art pieces.
The final exhibition is an eco-friendly venture with minimal waste and fully accessible with a QR code to each art piece with an accompanying podcast.
The launch event will take place on 29 March at 6pm at the Thameside Theatre, the maps will be on display in the Thameside Theatre exhibition space on the ground floor until 4 April.