Back
Bourne Narratives *** new activity pack ***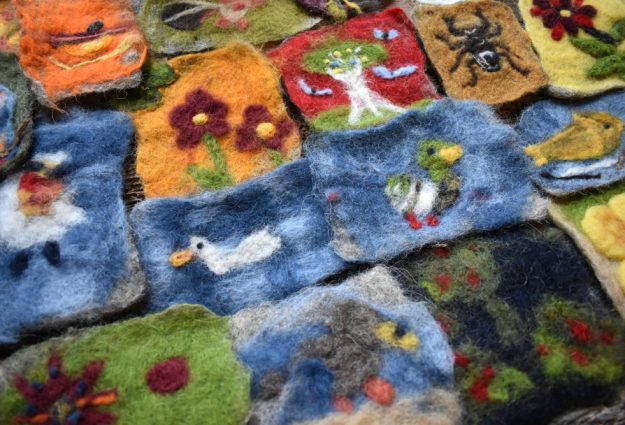 Bourne Narratives: Lisa Temple-Cox and Nicola Burrell
Keep up to date, enjoy online activities and take part at
facebook.com/bournenarratives
Nicola Burrell and Lisa Temple-Cox work with places and histories to create artworks that sit in and belong to their site. For their commission Bourne Narratives at National Trust Bourne Mill, they have been working with NT staff and volunteers, visitors and community groups in Colchester to create a large felt-based map, to explore Bourne Mill and the surrounding area.
Like our other artists, the coronavirus is not holding them back… they are encouraging people to take part remotely via their Facebook page, with online activities, resources and fun updates. The artists explain:
"While we are currently unable to continue with our public engagement workshops, we would still like the community to get involved! We will regularly be sharing colouring-in, drawing and painting activities that people can do at home and then share with us. Some of these will be made up into felt panels, eventually forming part of a new artwork that will go on public display: some of these will go into the book that we will be making to celebrate this project. Watch this space [Bourne Narratives Facebook Page] for themed activity!'
Take part in activities and keep in the loop at facebook.com/bournenarratives
---
Bourne Narratives Activity Pack  *** NEW ***
The artists have put together two great activity packs for families to download. Fun tasks include colouring in, cardboard cut-out swans, nature activities, medieval bread making and making a miniature model of Bourne Mill.
Bourne Narratives Activity Pack 1 (spring & early summer) (PDF 7.4MB)
Bourne Narratives Activity Pack 2 (August/September) (PDF 9.1MB) *** NEW ***
---
Spotters' Guide: Spring Flowers
If you live in the area, and want to take a short walk as part of your daily exercise, the artists have put together a special 'Spotters' Guide' for you to find and learn about spring flowers in Bourne Valley. 
Download the Spotters' Guide (PDF 1.4MB)
---
Bourne Mill Birds 
Here are a few colouring-in activities you can enjoy at home. Click on each image to open in a new window, download and print. Once you have coloured them in then send them to the artists at [email protected] or share them online at facebook.com/bournenarratives 
Exploring the natural diversity of Bourne Mill and the Bourne Valley, the artists will be sharing a list of the various plants and animals to be found there. For this task they look at birds. Waterfowl found on Bourne pond include Mallard, Tufted duck, Swan, Coot, Moorhen, Canada Goose, Cormorant, and Little Egret. Look these up online and do your own drawing or painting, or colour in the images below. If you live in the area, take a short walk to the mill and take some photos. The artists will be selecting some images to make into felted panels for the final artwork, as well as to go into the book of the project. Suitable for adults and children of all ages. Read people's responses so far to the post on Facebook.
---