Back
Community Heritage Workshop: Funding and Opportunities 2023
Friday 24 Feb 2023 10:00 AM - 3:30 PM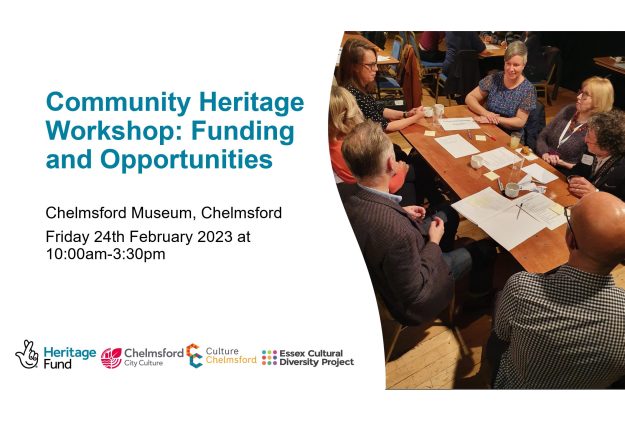 Community Heritage Workshop
Funding and Opportunities 2023
Friday 24 February 2023

Chelmsford Museum, CM2 9AQ

Do you represent and work with charities and not-for-profit organisations in Essex? Are you interested in delivering a heritage project for your local community? If yes, join us at our Community Heritage Workshop to learn about funding sources available, the process of applying and how to manage project grants.
A morning event will be followed by 20 minute bookable one-to-one sessions in the afternoon.
For more info and to book, visit TicketSource
---
Community Heritage Workshop: Funding and Opportunities 2023
Date: Friday 24 February 2023
Time: 10 for 10:30am start until 1pm, 20min bookable funding sessions available 1:30-3:30pm
Location: Chelmsford Museum, Chelmsford, CM2 9AQ
Free to attend and lunch provided
Morning presentations, case-studies and workshop looking at funding sources and top-tips on applying.
20 minute bookable one-to-one sessions in the afternoon
This workshop is delivered by the National Lottery Heritage fund in partnership with Culture Chelmsford and Essex Cultural Diversity Project.
Heritage can be anything from the past that you value and want to pass on to future generations.
Have you got an idea for a heritage project with your local community? Would you like to discover more about heritage projects and the funding available to help bring them to life?
This workshop is designed for people representing and working with Essex charities and not-for-profit organisations that are interested in delivering heritage projects. Join us to hear about funding sources available and the process of applying and managing project grants. You will have the opportunity to connect with other community organisations and speak to someone for some tailored advice on your ideas or plans.
A light lunch will be provided and the following bookable sessions will be available in the afternoon:
Ideas Surgery (20min slots), with Culture Chelmsford, Chelmsford City Council and Essex Cultural Diversity project. If you have a project idea for working with communities in Essex and would like some guidance on how to move forward with it.
National Lottery Grants for Heritage (20min slots), with the Engagement team at the National Lottery Heritage Fund. If you'd like more detail or guidance about a specific heritage project idea.
Please indicate which of these slots you are interested in when booking.
For more info and to book, visit TicketSource
---