Back
Black History Month 2021: Proud to Be
Friday 1 Oct 2021 - Sunday 31 Oct 2021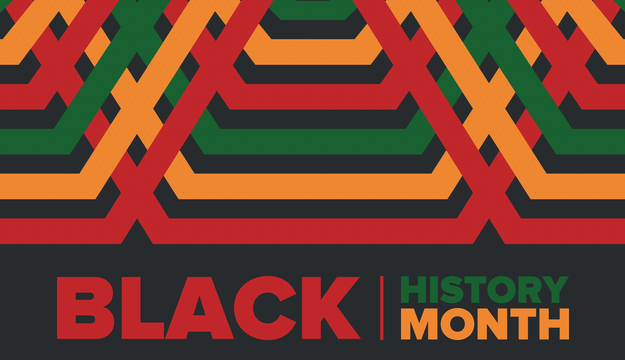 October is Black History Month, and once again we're supporting events and activities taking place across the county. Here's an overview of what's on, with links to friends and partners websites for more info.
---
Black History Month Colchester: Community Hub
bhmcolchester.co.uk
Throughout October BHM Colchester will be based at the One Colcheter Community Hub, hosting an exhibition, displays, events and performances. Pop in, make connections, and find out what's happening throughout the town this October.
1-31 October
One Colchester Community Hub, 2/6 Long Wyre Street, Colchester, CO1 1LH
Free
---
BLACK LIVES MATTER: The Art of Protest
bhmcolchester.co.uk/event/black-lives-matter-the-art-of-protest/
Curated by trustee, Sophie Kabangu, The Art of Protest brings together over a hundred of the placards created for the Black Lives Matter demonstrations in Colchester last year, alongside photographs and commentaries from those involved on the day. As part of Black History Month, showing at our Trinity Square space from 4-22 October.
4-22 October
We Are the Minories, 4-5 Trinity Square, Colchester, Essex CO1 1JR
Free
---
Tilbury Bridge Walkway of Memories, EVEWRIGHT
www.evewrightarts.org
Tilbury Bridge Walkway of Memories is an art and sound installation by Artist EVEWRIGHT. It is the first site-specific art and sound installation to be held at the Port of Tilbury in Essex and the UK dedicated to people of the Windrush Generation. It is an immersive visual art experience, installed on 432 panes of glass collaged with photographs, documents, original boat passenger tickets and memorabilia. The artwork is installed in an original passenger walkway 55 metres long. As you walk through, you can listen to audio stories about the lives of some of the elders whose images are featured in the installation.
Tilbury Bridge Walkway, Near Tilbury Ferry/Bus Terminus, Fort Road, Tilbury, Essex RM18 7NJ
Black History Month 2021: Artist Walk & Talk / Tours 2 & 16 October
Sign up at www.evewrightarts.org/events-1
---
Black History Month Programme
Essex County Council, Black, Asian and Minority Ethnic Employee Network
Every year the Essex County Council BAME Network programme some excellent events for all to enjoy. This year events include In Conversation with Historian David Olusoga and Storyteller Alim Kamara, Black History Walks, and reading schemes for Essex Library Service. Read more here ECC BAMEN Black History Month Programme (PDF 15MB).
---
Black History Month at the University of Essex
Breathing the Light exhibition
essex.ac.uk/event-series/black-history-month
artexchange.org.uk
An overview of BHM events at the University of Essex, everyone welcome. Activity this year includes the Breathing the Light exhibition and accompanying events at Art Exchange, the art gallery on campus. This new exhibition is inspired by the vision and fierce optimism of Ben Okri's anthology A Fire in My Head: Poems for the Dawn which includes the poem Breathing the Light, and takes 'home' as its starting point.
---
Black History Month at Essex Library Services
Proud To Be… Reading
A good book gives you the potential to learn something new about yourself, the world you're in, and the people around you. Essex Library Services are proud to be learning more and want everyone to feel represented by the books on their shelves and share stories from diverse backgrounds. Black History Month is a time for education in race and racism, for celebration of black people and for pride in culture and heritage. The Libraries will be running a campaign for BHM, with reading lists, reviews and discussions in the libraries and across social media.
twitter.com/EssexLibraries
facebook.com/EssexLibraries
youtube.com/user/EssexLibraries
---
---
OVERVIEW OF EVENTS BY DATE
Black History Month Colchester Public Opening Day
bhmcolchester.co.uk/event/black-history-month-colchester-public-opening-day
1 October | 11.00am-2.30pm | Free
One Colchester Communty Hub, 2/6 Long Wyre Street, Colchester, CO1 1LH
Part of BHM Colchester
Black History Month: In Conversation with David Olusoga
eventbrite.co.uk/e/black-history-month-in-conversation-with-david-olusoga
Fri 1 October 2021 | 1.00-2.00pm | Free, booking essential
Online event
Organised by Essex County Council, Black, Asian and Minority Ethnic Employee Network
MERCURY THEATER – ANTIGONE
bhmcolchester.co.uk/event/mercury-theater-antigone
1-16 October | Tickets £15
Mercury Theatre, Balkerne Gate, Colchester, Essex CO1 1PT
Part of BHM Colchester
Firstsite BHM Colchester Community Day Celebration
bhmcolchester.co.uk/event/firstsite-museum-black-history-month-community-day-celebration
Sat 2 October | 10.00am-4.30pm | Free
FIRSTSITE, Lewis Gardens, High Street, Colchester, CO1 1JH
Part of BHM Colchester
Harlow Black History Festival
Sat 2 October | 10.30am-5.30pm | Free
Market Square, Stone Cross, Harlow CM20 1BL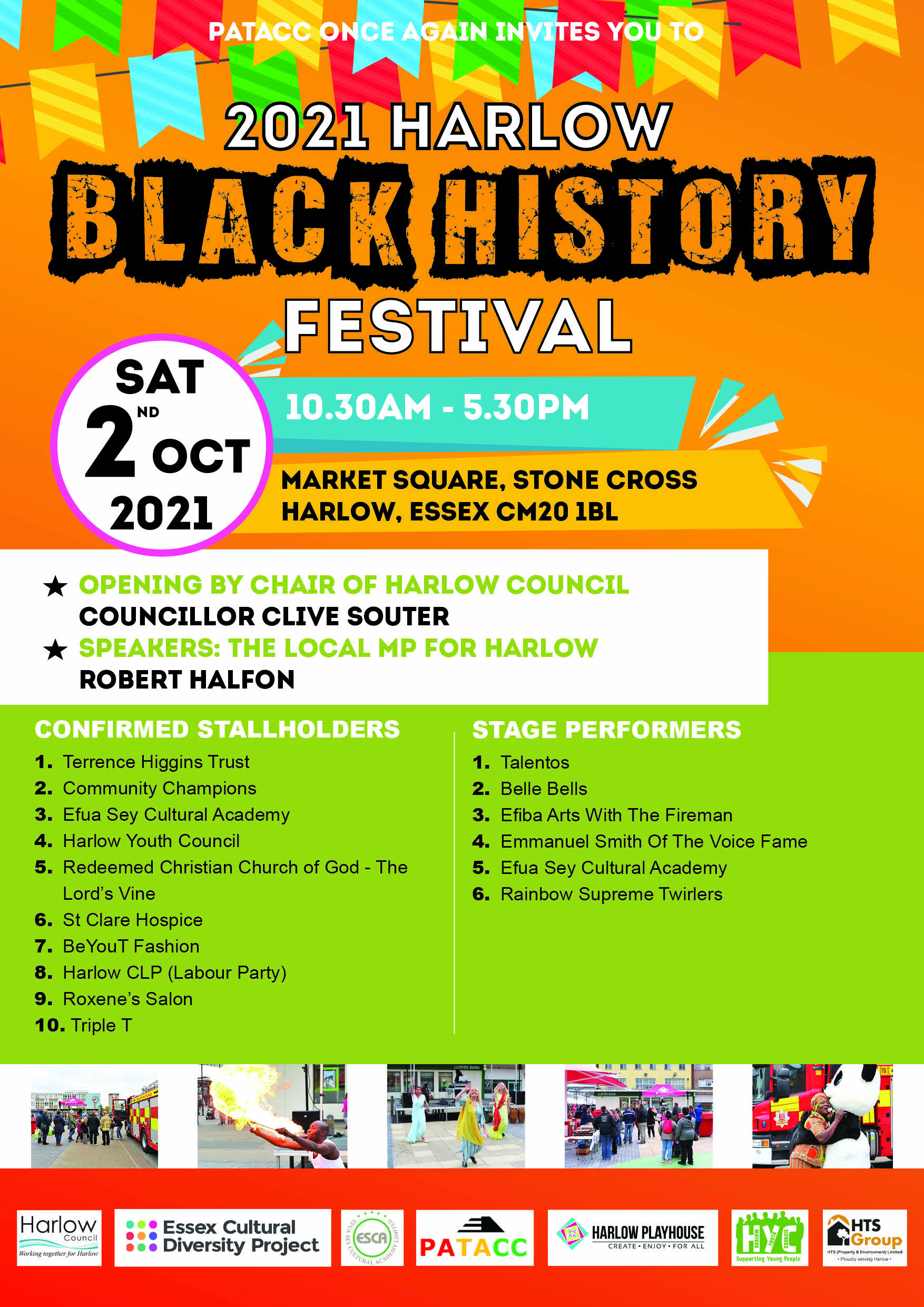 Princess Theatre Clacton presents THE DRIFTERS
bhmcolchester.co.uk/event/the-drifters
Sun 3 October | 7.30pm-10.30pm | Tickets £27
Princess Theatre, Town Hall, Station Rd, Clacton-on-Sea, CO15 1SE
Part of BHM Colchester
Princess Theatre Clacton presents WHITNEY – QUEEN OF THE NIGHT
bhmcolchester.co.uk/event/whitney-queen-of-the-night
6 October | 7.30 pm-10.30pm | Tickets £28.50
Princess Theatre, Clacton Town Hall, Station Road, Clacton-On-Sea, CO15 1SE
Part of BHM Colchester
The Festival of Navaratri
bhmcolchester.co.uk/event/the-festival-of-navaratri
7-15 October | 10.00am-5.00 pm | Free
One Colchester Community Hub, 2/6 Long Wyre Street, Colchester CO1
Part of BHM Colchester
Breathing the Light: Launch Party
www.artexchange.org.uk
7 October | 6.00 – 7.00 pm | Free
Art Exchange, University of Essex, Wivenhoe Park, Colchester CO4 3SQ
MERCURY THEATRE BHM COLCHESTER "THE SPOKEN WORD"
bhmcolchester.co.uk/event/mercury-theatre-bhm-colchester-the-spoken-word
8 October | 9.30pm-11.30pm | Free
Mercury Theatre bar/restaurant, Balkerne Gate, Colchester, Essex CO1 1PT
Part of BHM Colchester
The Awaz Doh Assembly: Give Us A Voice!
essexcdp.com/event/awaz-doh-assembly
Sat 9 October 2021 | 11.00am-2.30pm | Free (Booking essential)
FIRSTSITE, Lewis Gardens, High Street, Colchester, CO1 1JH
This special event brings together women from diverse backgrounds to share experiences and stories, support each other and inspire positive change. Come along for talks, presentations and lunch, and take part in roundtable discussions to explore issues still effecting women today.
Organised by Essex Cultural Diversity Project
The Prevention of Suicide Amongst Black Men – "A Time to Talk"
bhmcolchester.co.uk/event/the-prevention-of-suicide-amongst-black-men-a-time-to-talk
12 October | 7.30pm-9.00pm | Free (email to book)
ZOOM
Part of BHM Colchester
AFiUK Community Surgery @ One Colchester Community Hub
bhmcolchester.co.uk/event/black-history-month-one-colchester-community-hub-2
13 October | 11.00am-2.30pm | Free
One Colchester Community Hub, 2/6 Long Wyre Street, Colchester, Essex CO1
Part of BHM Colchester
BHM Art Exhibit & Tour
bhmcolchester.co.uk/event/bhm-art-exhibit-tour
14 October | 11.00am-4.00 pm | Free
One Colchester Community Hub, 2/6 Long Wyre Street, Colchester, Essex CO1
Part of BHM Colchester
Black History Month: Domino Tournament
Colchester Caribbean Elders v Southend Caribbean community group
bhmcolchester.co.uk/event/black-history-month-one-colchester-community-hub-5
16 October | 4.00pm-7.00 pm | | Free
One Colchester Community Hub, 2/6 Long Wyre Street, Colchester, Essex CO1 1LH
Part of BHM Colchester
Black History Month Dovercourt & Harwich
bhmcolchester.co.uk/event/black-history-month-dovercourt-harwich
19 October | 11.00am-4.00pm | Free
Dovercourt & Harwich Community Hub, 276 High St, Harwich, Essex CO12 3PD
Part of BHM Colchester
THE AMBASSADOR, Rachel Walton – Book launch at Firstsite
bhmcolchester.co.uk/event/the-ambassador-book-launchfirstsite
20 October | 10.00am-4.00pm | Free
FIRSTSITE, Lewis Gardens, High Street, Colchester, CO1 1JH
Part of BHM Colchester
Breathing the Light: Curators Tour
artexchange.org.uk/event/breathing-the-light-online-curators-tour
20 October | 6.00-7.00pm | Free
Art Exchange, University of Essex, Wivenhoe Park, Colchester CO4 3SQ
Black History Month: Youth Activities
bhmcolchester.co.uk/event/black-history-month-one-colchester-community-hub-youth-activities
23 October | 11:00am-3:30pm | Free
One Colchester Community Hub, 2/6 Long Wyre Street, Colchester, Essex CO1 1LH
Part of BHM Colchester
MERCURY THEATRE – BLACK HISTORY MONTH "SPOKEN WORDS"
bhmcolchester.co.uk/event/mercury-theatre-black-history-month-spoken-words
23 October | 9:30pm – 11:30pm | Free
Mercury Theatre bar/restaurant, Balkerne Gate, Colchester, Essex CO1 1PT
Part of BHM Colchester
Tubby Hayes: A Man in a Hurry + Q&A
firstsite.uk/event/tubby-hayes-a-man-in-a-hurry-q-and-a
Saturday 23 October 2021 | 7.00 pm | Tickets from £6.50
Firstsite
Celebrated British jazz saxophonist Simon Spillett will give a brief introduction to the film, followed afterwards by a live Q&A session in the cinema. Simon Spillet will be playing at the Colchester Arts Centre on Sunday 24 October, as part of Black History Month Colchester
Part of BHM Colchester
CELEBRATING TUBBY HAYES: SIMON SPILLETT QUARTET
bhmcolchester.co.uk/event/celebrating-tubby-hayes-simon-spillett-quartet
24 October | 7.30pm-10.30pm | Tickets £15
Colchester Arts Centre, Church Street, Colchester, Essex CO1 1NF
Part of BHM Colchester
AFiUK Community Surgery – One Colchester Community Hub
bhmcolchester.co.uk/event/afiuk-community-surgery-one-colchester-community-hub
Wed 27 October | 11.00am-3.00pm  | Free
One Colchester Community Hub, 2/6 Long Wyre Street, Colchester, Essex CO1
Part of BHM Colchester
Black History Month: In Conversation with Storyteller, Alim Kamara
eventbrite.co.uk/e/black-history-month-in-conversation-with-storyteller-alim-kamara
Wed 27 October | 12.00-1.00pm | Free
Online event
Organised by Essex County Council, Black, Asian and Minority Ethnic Employee Network
Black History Month Clacton
bhmcolchester.co.uk/event/black-history-month-clacton
Thu 28 October | 11.00am-4.00pm | Free
Sam Hall Imperial House, 20-22 Rosemary Road, Clacton-on-Sea, CO15 1NZ

Part of BHM Colchester
What were Black people doing in World War One?
Talk by Black History Walks
eventbrite.co.uk/e/black-history-month-what-were-black-people-doing-in-world-war-one
Fri 29 October 2021 | 12.00–1.00 | Free
Online event
Organised by Essex County Council, Black, Asian and Minority Ethnic Employee Network
Black History Month Chelmsford
https://www.ngda-ltd.com/upcoming-events
Sat 30 October 2021 | from 11am | Free