Back
Time Will Tell: Ten Pound Poms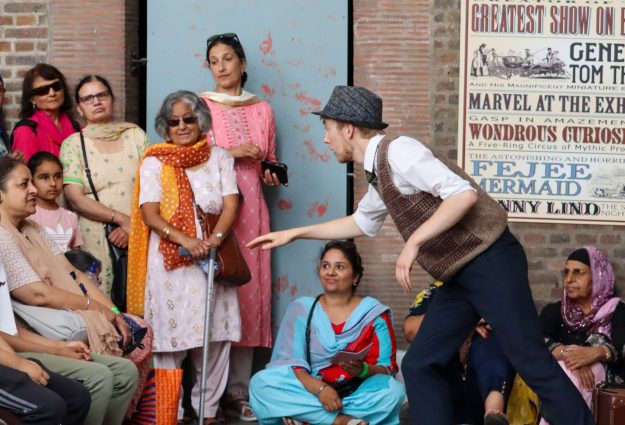 From Tilbury Port to Port Adelaide: Ten Pound Poms

Time Will Tell explores stories of Migration
An Essex Cultural Diversity Project and Creative Estuary Co-Commission
In 2022, Time Will Tell Theatre was commissioned to create a new participatory theatre piece to tell the stories of the Ten Pound Poms, many of whom left England from Tilbury Port to travel to Port Adelaide. The promenade piece was performed at the London Cruise Terminal in Tilbury, and was taken to Adelaide in Australia and performed at the South Australian Maritime Museum.
The performance in Essex was attended by visitors to the port and many community groups around Essex and Kent, who enjoyed hearing and sharing stories of migration.
Ten Pound Poms was an Essex Cultural Diversity Project and Creative Estuary co-commission, working in collaboration with Port Enfield Adelaide Council, History Trust of South Australia and Tilbury on the Thames Trust. It is funded by Arts Council England, The Department for Digital, Culture, Media and Sport funds the Cultural Development Fund which is administered by Arts Council England.
Read more about the project outcomes in this case study on the Creative Estuary website.
---
The 'Ten Pound Pom' scheme was the colloquial term for the general Assisted Passage Migration Scheme, launched in 1945 to enable British migrants from any British colony to go to Australia for the price of £10. The project seeks to explore the themes and stories of outward migration, to celebrate cultural heritage and legacy.
For their commission, Time Will Tell worked with communities in Essex and Australia to create a promenade piece of performance around the sites of the Tilbury Port and Port Adelaide, exploring stories of the Ten Pound Poms against a wider background of people throughout history dreaming of travel, of far-off places, of success and happiness, excitement and fulfilment, with a strong focus on to the two key locations.
The piece explored why we seek out new places to live, the effect it has on us, and the effect it has on the people who are already there. It celebrated migration and links the historical with the contemporary, to see how attitudes to migration have changed over the years. At a time when immigration, attitudes to migrants and climate change are all features of our modern world view, Time Will Tell draws out parallels with our current situation and what that might mean for the future.
"Time Will Tell Theatre is delighted to be working in partnership with Essex Cultural Diversity Project and Creative Estuary on Ten Pound Poms. We are so excited to be invited to create a piece of theatre exploring the experiences of those who followed their hopes and dreams of a new life in a new land as part of the Assisted Passage Migration Scheme. Performing it at Tilbury and Adelaide, retracing the steps of the Ten Pound Poms makes it even more special!" Time Will Tell Theatre

"This is an incredibly exciting co-commission, offering the opportunity for working with international partners to create an exciting and innovative piece of creative work that explores the shared heritage of Australia and the UK" Emma Wilcox, Creative Estuary Project Director

"This is an excellent opportunity to work with our partners in Tilbury and Adelaide, and to champion a creative community theatre piece which will respond to the stories of migration and reach out to wider audiences locally, nationally and internationally." Indi Sandhu, Essex Cultural Diversity Project's Creative Director & CEO
---
About Time Will Tell
Time Will Tell is a theatre company whose passion is history, especially the lesser known stories of our past that are often lost. They have significant experience of working in the heritage sector, and a proven track record in creating dynamic and thought-provoking performances, as well as accurate and entertaining historical interpretations.
As a company they seek to bring history to life in the moment, to put the audience in the position of seeing themselves caught up in the events of the past, of witnessing history but as a participant rather than a bystander. Their aim is to enlighten and entertain, but always to engage and involve whilst delivering a creative experience. We seek to present historical events in a simple but engaging way, without distracting from the complexity of how these events have an effect in their time and on the future.
Time Will Tell has worked with a number of clients and partners on many projects and commissions, including English Heritage, Lincoln Castle, Pontefract Castle, The National Army Museum, The Royal Armouries (Leeds and Fort Nelson), The Houses of Parliament, Norwich Church Trust, Girton College, Cambridge, The Festival of Norfolk and the Punjab, The Bolton Festival of Heritage and Hope, The Royal Astronomical Society, Newark Civil War Centre, Royal Holloway University Festival of Freedom, The Thomas Paine Festival, Thetford, Norfolk Museums Trust and Historic England.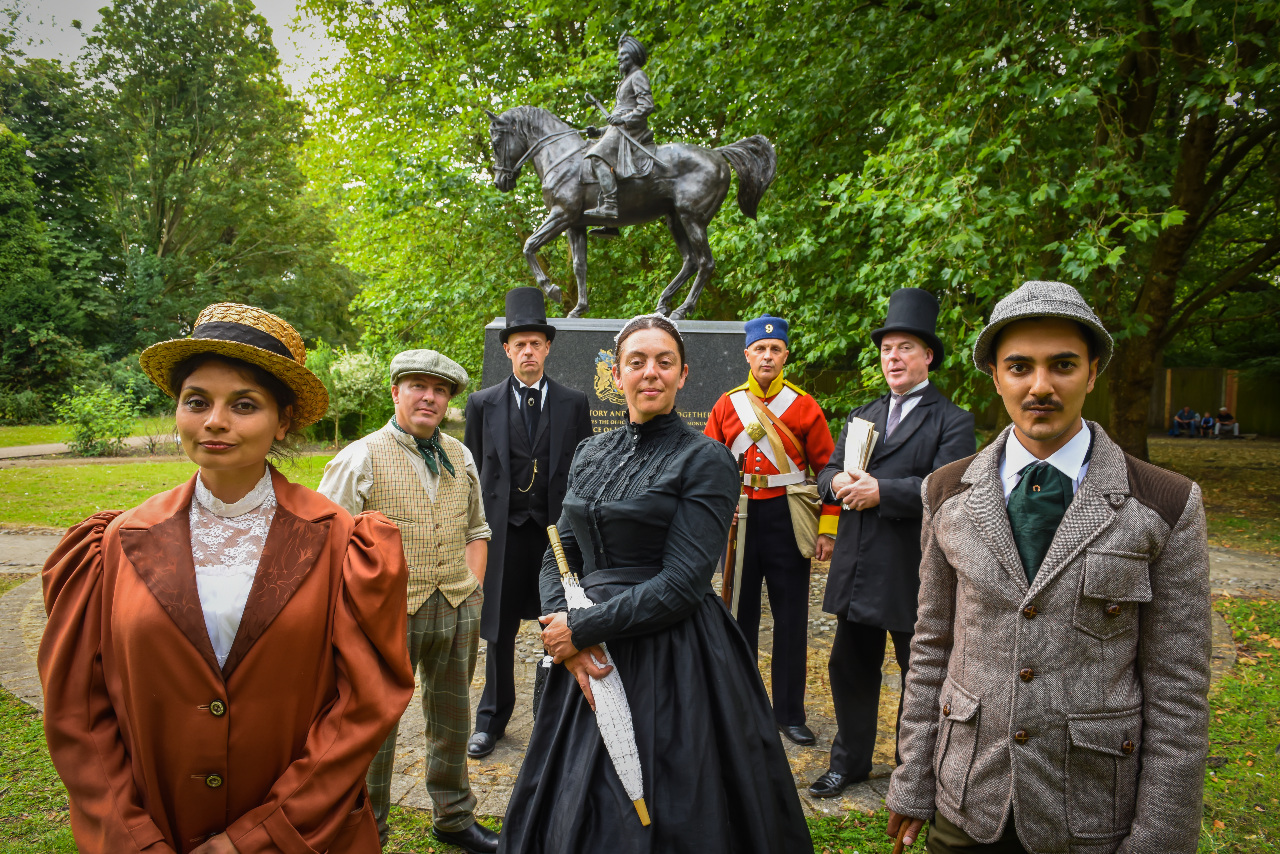 Image: Time Will Tell, performing for the Festival of Thetford & Punjab 2018 © Ancient House Museum
www.time-will-tell.co.uk | Time Will Tell on Facebook | Time Will Tell on Instagram | Time Will Tell on Twitter
---
About Creative Estuary Co-commissions
Creative Estuary supports a wide range of cultural projects with new commissions for Estuary-based producers and artists, from activity for emerging cultural activists to large scale commissions with a diverse mix of partners. The Co-commissions raise widespread awareness of existing creative talent across the region and support creative practitioners and organisations to make and present new work. We are committed to engaging our local communities to contribute to their creative identity and will give artists, organisations and creative practitioners opportunities and support to help them realise their creative ambitions. The Co- commissions create opportunities for creative innovation and new cultural production – we want to capture imagination and provide opportunities for greater collaboration and knowledge sharing.
---
About Creative Estuary
CREATIVE ESTUARY has a vision to forge a new future founded on creative energy and innovation, along the length of the Thames Estuary. The project is supported by the Department for Digital, Culture, Media and Sport (DCMS) and led by the University of Kent on behalf of a consortium of public sector and cultural organisations. They include the South East Local Enterprise Partnership (SELEP), Kent and Essex County Councils, the Greater London Authority, 11 local authority areas represented by Greater North Kent Partnership and opportunity South Essex, South East Creative Economy Network (SECEN), University of Essex, Locate in Kent and cultural organisations Metal and Cement Fields. In early 2019 the University of Kent was awarded £4.3m from the DCMS Cultural Development Fund on behalf of the partners. The Department for Digital, Culture, Media and Sport funds the Cultural Development Fund which is administered by Arts Council England.
---



---
Acknowledgements
We'd like to thank the following:

Project Team
Kathy Hipperson and Simon Kirk, Time will Tell Theatre
Lata Upadhyaya, Essex Cultural Diversity Project Commissioned Artist
Indi Sandhu, Project Lead, ECDP Creative Director
Giles Tofield, ECDP Strategic Lead & Cultural Engine CIC
Jo Nancarrow, ECDP Digital Lead & Admin
UK Partners
Tilbury on the Thames Trust, Lucy Emma Harris
Port of Tilbury – Sheena Allsopp
UK Funders & Co-Commissioners
Creative Estuary – Laurence Taylor
Arts Council England
Adelaide Partners:
History Trust of South Australia
Paul Rees, Head of Museums, Marketing and Major Events
Dr Adam Paterson, Manager Curatorial
Suzanne Redman, Acting Public Programs Coordinator
Maritime Museum Port Adelaide
Bruno Davids, Visitor Engagement Manager
Adelaide Funders:
City of Port Adelaide Enfield
Summar Hipworth, Arts & Culture Coordinator
Cat Conidi, Placemaking and Activation Leader