Back
INSTAR: Bourne to be Wild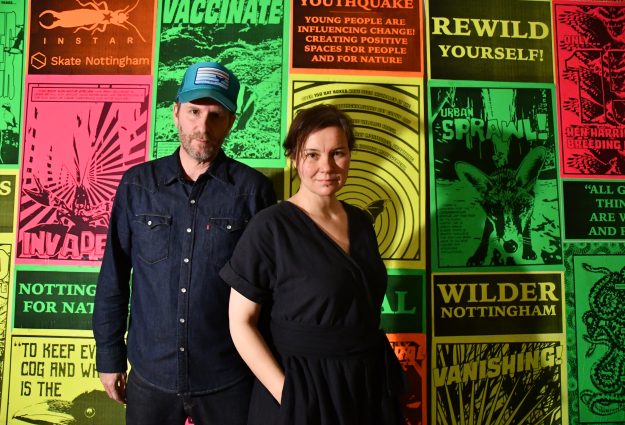 We are pleased to announce that INSTAR, aka artistic duo Trish Evans and Nick Humphreys, have been appointed as commissioned artists for Bourne Mill, in partnership with the National Trust.
INSTAR produce artwork inspired by the natural world, from mountain to museum, oceans to uplands, the urban to the rural. Through their practice they bring together local heritage, culture, place, habitats and community, combining their love of the natural world with their passion to connect people.
Their commission, entitled Bourne to be Wild, will creatively respond to Bourne Mill's wildlife and heritage through a series of interventions both on-site and in Colchester's city centre, as well as along the city's streets and bicycle trails. INSTAR will work with the public, visitors to the mill and community groups to explore nature through the art of the paste-up, poster and print, co-creating a series of street level exhibitions, a visual art 're-wilding' of urban spaces, collectable postcards, and a touring cycle exhibition.
Their workshop programme will offer a rich hybrid of wildlife exploration together with illustration and printmaking activities, nurturing confidence, creativity, community and friendship. Participants will be invited to mindfully declutter and untangle from life's pressures so as to enable a sense of wild discovery, and unmute relationships with the natural world through making art, creating a collaborative and powerful voice for local nature.
Overall the project aims to raise awareness of biodiversity, support positive attitudes and behaviours around Climate Action and the environment, and engage with new and under-represented audiences. The commission seeks to raise the profile of Bourne Mill as a site that can inspire the people of Colchester, and instigate a 'call for action' that will encourage the local community to champion both cultural heritage and wildlife.
"We are delighted to be delivering our Bourne to be Wild commission in Colchester, and to be working with Essex Cultural Diversity Project and National Trust Bourne Mill. Bourne Mill and its surrounding area in Colchester presents an inspiring diversity of wildlife for us to creatively explore and discover as part of our artistic process, and we are excited to be creating a new series of visual print artworks, alongside engaging local communities in a range of creative and wild opportunities over the coming seasons." INSTAR (Trish Evans and Nick Humphreys)

"We're really looking forward to working with INSTAR at Bourne Mill and across Colchester. Providing opportunities to explore our personal connection to nature and the importance of Climate Action is vital to securing a sustainable future. This is the fourth commission we have delivered in partnership with the Essex Cultural Diversity Project, funded by the Arts Council across the National Trust Essex and Suffolk Countryside properties. The partnership is going from strength to strength. We were blown away by the quality and number of proposals for this commission and hope that creatives will look out for future opportunities." Sarah Barfoot, Experience and Programme Manager, Essex & Suffolk Countryside, National Trust
ABOUT INSTAR
INSTAR – artists Trish Evans and Nick Humphreys – are an arts partnership producing high quality artwork which creates deeper connections to the natural world through contemporary art. Our practice is multidisciplinary and we produce, exhibit and deliver across a range of environments, from mountain to museum, forest to city centre, collaborating with cultural, heritage and site- specific partners, communities and groups.
Their portfolio includes commissioned public art, exhibition design, installation, engagement and creative interpretation. Working collaboratively, our partners have included The National Trust, National Forest, Nottingham Natural History Museum and The Wildlife Trusts.
For more information about the artists and their work, visit www.we-are-instar.co.uk
---