Back
Becky Vincer: A Gift For Dunton Hills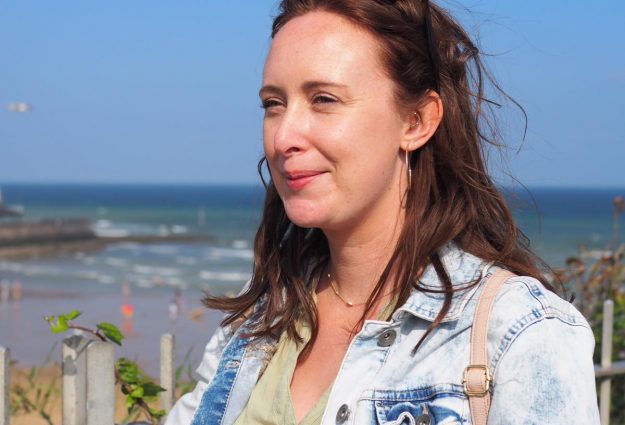 In 2022-23 Becky Vincer is commissioned artist for Dunton Hills Garden Village, which sits within the Brentwood Borough, close to Basildon and areas of Thurrock. The commission is the second of two projects, in partnership with Brentwood Borough Council, which explore the evolving development of the Garden Village.
For this commission, we invited creative practitioners to propose an idea or design that could be presented to the housing developers, to develop into a 'gift' for each new future resident of Dunton Hills, to welcome them to the community.
For her project, Becky has been working with children, young people and community groups to co-design a picnic blanket that features  stories, quotes and illustrations. This will be designed in close collaboration with communities, involving local residents in the place-making process.
The project has been gathering and amplifying a multitude of voices through creativity, encouraging people to connect with others and enjoy food together. Food by its nature is rich in cultural and personal histories that will be shared and celebrated through creative workshops and the final artwork.
Over the last few months, the artist has been delivering fun, accessible workshops, gathering a wide range of inspiration for the picnic blanket; using creative activities she has been asking participants to consider their experiences of sharing food with others: Who do you eat with? Where do you eat? What do you eat and drink? Where do the recipes come from? There have been opportunities to make, share and enjoy food together as part of the creative process.
Participants so far include pupils from West Horndon Primary School, members of the Endeavour Youth Club, Daily Bread Community Café, Forget Me Not Activity Club for those living with Dementia, Doddinghurst Road Toddler Group, and visitors to Brentwood Borough Council's Summer Family Fun Days.
As a gift for future residents, the picnic blanket will celebrate diversity, culture and community, offering a mutual talking point and conversation starter to bridge connections between new neighbours. We hope it will encourage a collective sense of ownership, as the picnic blankets would be used and seen in shared green spaces in and around the Dunton Hills Garden Village.
Becky's arts practice is centred on human character strengths and how creativity can nurture positive values and behaviours. She is interested in the power of the arts to bring people together and its ability to foster generosity, a sense of community and belonging.
"The Council is keen to embed community identities into the new garden village and engage residents in place-making and we are thankful to Arts Council England and Homes England, who have provided funding to enable this creative endeavour. We hope Becky's commission will assist the borough and others in welcoming the village's new residents, making them feel part of the community and connected to their new neighbourhoods." Councillor Garry White, Chair of Housing Committee

"I'm thrilled to have been selected for the future gift for Dunton Hills commission. I'm excited to discover local people's stories and memories that will help to co-create a welcoming and meaningful gift for new residents. Having recently bought a first home myself, I know the significance the gift will have on special move-in days for hundreds of people. And I hope we can connect new residents with not only the green spaces planned for the village but with each other too." Becky Vincer, Artist

"Partnership is at the heart of Essex Cultural Diversity Project's work, and this is a great opportunity to continue our creative collaboration with Brentwood Borough Council, to support artists and communities from diverse backgrounds as part of our ongoing programme of place-based commissions" Indi Sandhu, Creative Director and CEO, Essex Cultural Diversity Project
---
About the Artist
Becky Vincer is a community visual artist and creative producer based in south-east Kent, and is neuro-diverse. Her work is centred on human character strengths and often explores values of kindness, hope and love. Becky works collaboratively with community groups to cocreate visual art, often working with collage, textiles, printmaking, and drawing. Becky has a degree in Fine Art: Sculpture, in 2019 she was selected to attend Clore Emerging Leaders and the Eden Project Community Camp. She has been commissioned by Portsmouth City Council, Medway Council and Dover Council to create community engaged artworks. Becky regularly facilitates workshops for arts, community and education organisations including Platforma Festival, Turner Contemporary, University of Pennsylvania and schools across Kent.
Becky has facilitated participatory workshops for a range of community, arts and heritage organisations, since 2019 this includes: Aim4, Animate Arts, ART31, Bright Shadow, Canterbury Festival, Catching Lives, Compton Verney Art Gallery & Park, Free Space Project, Girlguiding UK, Gulbenkian, Harrow Arts Centre, Horsebridge Arts Centre, IO Arts, History and Disability, Newington Chill Club, People United, Platforma Festival, Portsmouth Museums & Galleries, Primary & Secondary Schools in Kent, Ramsgate Festival, Scouts, Sound Up Arts, The Big Draw, The D-Day Story, Turner Contemporary and University of Pennsylvania.
https://beckyvincer.art/ | https://www.instagram.com/beckyvincerartist/