Back
The Singh Twins: Slaves of Fashion Family Day
Sunday 24 Jul 2022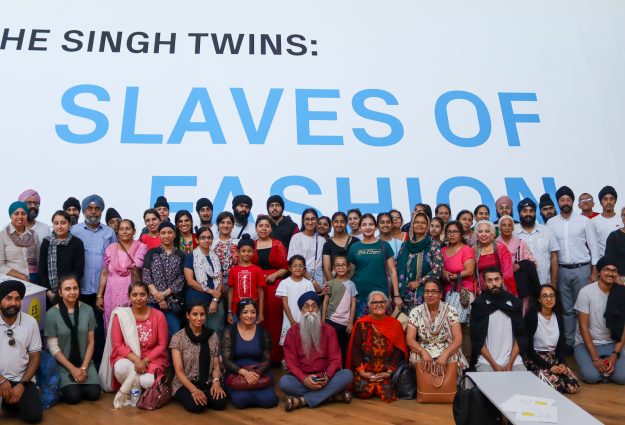 The Singh Twins: Slaves of Fashion Family Day
Firstsite, Colchester
July 2022
Firstsite hosted a special community and family day inspired by the The Singh Twins: Slaves of Fashion exhibition. Those attending this free event spent time with the exhibition, took part in  artist led activities, and enjoyed free curry for lunch.
Suman Gujral led a workshop centred on 'journeys', inviting attendees to make boats from colourful handmade Lokta paper from the Himalayas. www.instagram.com/print_makerlady
Harinder Singh, an expert in Sikh Art & Animation also presented a display of the Ik Onkar Book, which explores the Sikh faith, beautifully illustrated with artwork by The Singh Twins. 

The day was well attended by visitors to firstsite and local families, as well as A Little History of the Sikhs, with the Karamsar Punjabi School, and members of the Sikh Women's Alliance from East London.
---
The Singh Twins: Slaves of Fashion, the spring exhibition at Firstsite, Art Fund Museum of the Year, explores narratives around Empire, enslavement, luxury consumerism, and the contemporary relevance of all these issues in our world today, through the colonial history of Indian textiles.
Supported by Essex Cultural Diversity Project, The Singh Twins: Slaves of Fashion will showcase artworks by the internationally renowned artists, which focus on the relationship between Britain and India, hidden details of Europe's colonial past and its legacies, including current debates around ethical trade, responsible consumerism and decolonisation and racism.
Primarily known for their hand-painted work in a modern development of the Indian miniature tradition, The Singh Twins' latest work combines traditional hand-painting techniques with historical archival material and digitally created imagery.