Back
Cultural Integration: Art, Fashion and Beauty
Saturday 21 Oct 2023 10:00 AM - 4:30 PM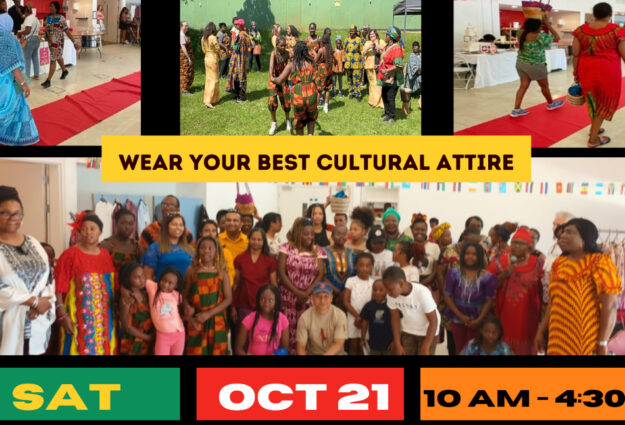 Cultural Integration: Art, Fashion and Beauty
Saturday 21 October 10am – 4.30pm
Firstsite
We are delighted to invite you to a vibrant and inclusive Black History Month cultural integration event to promote cultural integration through art, fashion, and beauty. This exciting event will showcase the richness and diversity of our community, celebrating different cultures and fostering a sense of unity. We encourage you to join us and be part of this memorable occasion.
The event is organised by Colchester Life in The UK and is supported by Essex Cultural Diversity Project, and with the support of local business Paramount Security Solutions LTD.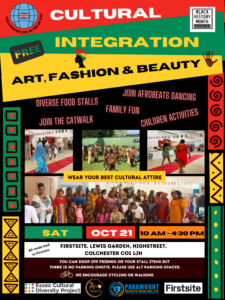 Event Highlights
Stalls Trading in Arts, Fashion, and Beauty Items
Explore a variety of stalls offering exquisite art, fashion, and beauty items. Immerse yourself in the colours, patterns, and styles from different cultures, and discover unique products that reflect the beauty of cultural diversity.
Cultural Cuisine
Indulge your taste buds with a diverse range of culinary delights from various cultures. Sample traditional dishes and experience the flavours that make each culture unique. This is an opportunity to appreciate the culinary heritage of different communities and discover new tastes.
Entertainment by Afro Moves
Experience the rhythm and energy of Afro Moves, an exciting dance performance that showcases the vibrant and dynamic cultural expressions of Africa. Enjoy the captivating music and dance moves that will surely get you on your feet and create an atmosphere of joy and celebration.
Fun Corner for Children
We have created a special corner dedicated to children, filled with interactive activities and games. Children can engage in arts and crafts, face painting, and more. It's a fantastic opportunity for young ones to learn and appreciate diversity in a fun and engaging way.
Cultural Attire Catwalk
Join us on the catwalk and represent a culture of your choice! Whether you come dressed in your own cultural attire or borrow one from the stall holders, we encourage everyone to participate. This catwalk is a wonderful platform to showcase the beauty and uniqueness of different cultures, and to celebrate the diversity that enriches our community.
Invite Your Friends
We believe that inclusivity is enhanced when shared with friends and loved ones. So, extend the invitation to your friends and encourage them to join us at this cultural integration event. Together, we can create an atmosphere of unity, understanding, and appreciation for the diverse tapestry that makes up our community.
Mark your calendars for 21 October 2023 and join us at Firstsite for a day filled with cultural integration through art, fashion, and beauty. Immerse yourself in the colours, tastes, and rhythms of different cultures, and celebrate the richness and diversity of our community. We look forward to welcoming you and your friends to this unforgettable event.
Venue: Firstsite, Lewis Gardens, High Street, Colchester CO1 1JH
Free entry.