Back
Princess Catherine Duleep Singh Exhibition
Sunday 9 Jul 2023 10:00 AM - 5:00 PM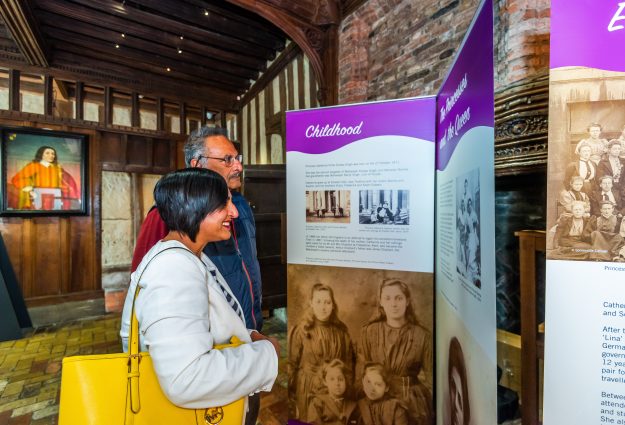 Princess Catherine Duleep Singh Exhibition
Ancient House Museum of Thetford Life
Sunday 9 July 10am to 5pm
Come along to the Ancient House Museum of Thetford Life in Norfolk, which will have free admission on 8 and 9 July as part of the Festival of Thetford & Punjab 2023. There are several stories, displays and artefacts relating to the Duleep Singh Family in the Museum's permanent collections, as well as a special pop-up exhibition.
Princess Catherine was the second daughter of Maharajah Duleep Singh – the last Emperor of the Sikh Empire and the youngest son of Maharajah Ranjit Singh. Princess Catherine was a campaigner for women's right and a Suffragist. Catherine was a lesbian living with her lover for 20 years in Germany during the rise of the Nazi party. During this time she aided many Jewish families to escape from Germany before the start of the Second World War.
Author and historian Peter Bance, worked on the exhibition, said: "Princess Catherine Duleep Singh, not only fought for women's rights, but also for the rights of people of other faiths in such perilous times so they could live in peace and harmony whilst putting her own life at great danger. It is indeed one of those hidden stories of history which must be told and passed down to generations so that we can learn, understand and respect one another, irrespective of our sex, colour, religion and beliefs."
The display will be in the Hall of the Ancient House and will feature a new portrait of Princess Catherine by contemporary Sikh artist INKQUISITIVE commissioned by Peter Bance. INKQUISTIVE said: "I've enjoyed working on this and learning so much more than I had originally known – life's many blessings on working on wonderful souls."
---
Festival of Thetford & Punjab 2023
Friday 7 July – Sunday 9 July
This event is part of Festival of Thetford & Punjab 2023, which takes place in venues across the town, as part of a whole weekend of cultural celebrations inspired by the life and legacy of the Duleep Singh family, the last Royal Family of the Punjab who lived in Norfolk. There'll be talks, workshops and activities for all to enjoy, as well as the Thetford Mela on Sunday, with performances from Circus Raj and the Rajasthan Heritage Brass Band, bhangra dancing, Sikh martial arts, dhol drumming and more.
Read the full programme at http://thetfordpunjabfest.com