Back
Listen Now: Vaccination Hesitancy on BBC Essex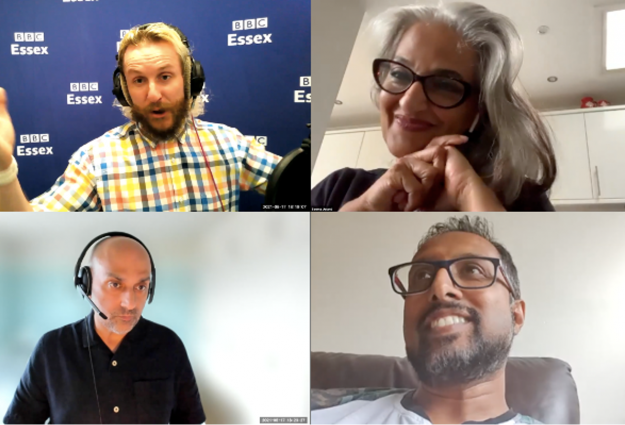 We were invited to talk to BBC Essex about our campaign to encourage people to 'get the jab' and overcome vaccination hesitancy, especially among diverse communities, young people and the elderly.
Guests included Indi Sandhu, CEO and Creative Director of Essex Cultural Diversity Project, Artist and storyteller Seema Anand, Dr Wasim Siddiqui, Simone Xue from Colchester Chinese Culture Society, and Aymen Syed from Chelmsford Mosque who is involved in running the Essex Vax Van.
---
Alternatively, watch a Zoom recording of the interview – thank you to BBC Essex for capturing the discussion on screen!
---
'Get the Jab' Campaign
With the help of artists, friends and partners, Essex Cultural Diversity Project is encouraging diverse communities across the county to get vaccinated.
Our campaign to support the COVID-19 Vaccination Programme, funded by Essex County Council's VCS COVID-19 Response Fund, starts with this short video. Our first film highlights how the arts sector can make an impact, with Essex-based diverse artists supporting our message 'Get the Jab'.
---
In this special podcast for ECDP Radio, artist and narrative specialist Seema Anand talks about Vaccination Hesitation in the wider context of culture and pandemics through the years.
---