Back
Windrush Day: In conversation with Phoenix Dance Theatre
Saturday 22 Jun 2019 2:00 PM - 3:15 PM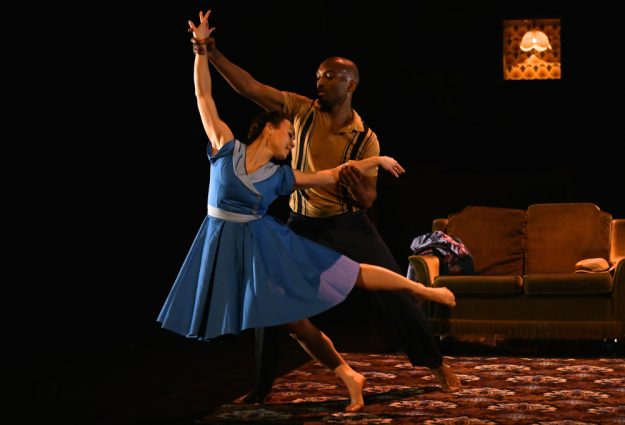 In Conversation with Phoenix Dance Theatre
Windrush: Movement of the People
22 June 2019
Essex Record Office, Chelmsford CM2 6YT
For Windrush Day in Chelmsford, Sharon Watson, Choreographer and Director of Phoenix Dance Theatre's Windrush: Movement of the People  talked about the inspirations behind the show that took the UK by storm in 2018.
Windrush: Movement of the People explores the narrative of the arrival of SS Empire Windrush that brought the first Caribbean migrants to the UK. The work is alively celebration of the rise of multicultural Britain and features an uplifting soundtrack from calypso, jazz, gospel and reggae with original music created by Christella Litras and features set and costume design by Eleanor Bull.
Sharon was in conversation with one of the dancers from the production, and introduced a short film with a section of the show, followed by an audience Q&A.
---
Here are some photo highlights (from our Flickr image archive):
---
About Phoenix Dance Theatre
Phoenix Dance Theatre is the UK's longest standing contemporary dance company outside London. Since the Company's small beginnings in 1981, founded by three black British men, it has grown to be a key Northern forerunner in contemporary dance. Being a leading voice for contemporary dance in the UK, Phoenix Dance Theatre's aim is to create dynamic, diverse and athletic work that embodies the spirit of a multicultural Britain.
---
More about Sharon Watson
Sharon Watson is the seventh Artistic Director of Phoenix Dance Theatre. Trained at the London School of Contemporary Dance, she was one of the first female Principal Dancers invited to join the all-male award-winning Phoenix Dance Company, touring with the company from 1989 to 1997 where she choreographed Never Still and Shaded Limits. Having left Phoenix to pursue a number of other ventures including setting up her own company ABCD and lecturing at the Northern School of Contemporary Dance for 6 years Sharon returned in 2009 as the new Artistic Director. She was Yorkshire Woman of the Year in 2017, 2018 First English Woman's Award for Arts and Culture and is in the Top 50 Power List of the Northern Power Women Awards and previous Chair of Leeds 2023. Sharon is committed to improving diversity within the arts by supporting the creative voices of women and BAME artists.
---
Windrush Day in Chelmsford
Essex is the Place For Me!
Saturday 22 June 2019
This event was part of our Windrush Day celebrations at Essex Record Office on 22 June, when we invited all to join us to discuss issues relating to Windrush, and also celebrate Afro-Caribbean culture with a whole day of food, music, dance, poetry and art. There was live music from the Phase 5 Steelpan Band, free food from Jerk Station, plus a programme of exciting talks and films, a family drop-in workshop and a pop-up exhibition. The event was hosted by our compere, Lawrence Walker, Chair of Black History Month Colchester.
Read about the whole day's programme here
---
The day was supported through the Government's Windrush Day Grant Scheme to support communities to commemorate and celebrate the outstanding contribution of the Windrush Generation and their descendants. 50 community groups and local authorities across the country used the funding to lead school projects, street parties, exhibitions, talks and workshops to recognise and honour the immense legacy of those who stepped ashore at Tilbury Docks over 70 years ago.