Back
Lahore Copper and Brass
Monday 13 Jun 2022 - Saturday 10 Sep 2022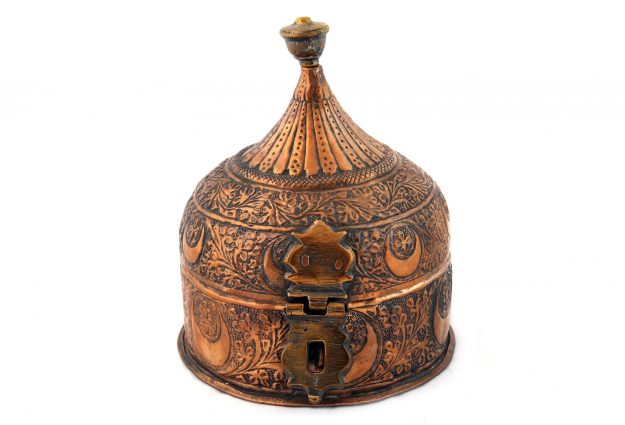 Lahore Copper and Brass
The South Asia Collection Museum, Norwich
The South Asia Collection Museum presents this unique exhibition of beautiful Pakistani copper and brass objects, much of which is from the Kasera Bazaar in Lahore, famous for its metalwork.
Pakistani metalwork predominantly uses copper, brass and bronze with geometric and floral designs formed by chasing, engraving and casting the various metals. Domestic copper and brass items are usually tinned, or lined with tin plate, a process known as qalai.
The South Asia Collection Museum aims to celebrate the arts, crafts and cultures of the South Asia and neighbouring countries. The first objects were acquired in 1978 and there are now nearly 7000 items in the collection. It encompasses many craft forms: textiles, traditional and modern paintings, furniture, architecture, wood and stone carving, metalwork and ceramics.
Venue: The South Asia Collection Museum, 34-36 Bethel Street, Norwich NR2 1NR
Open: 9.30 am – 5.00 pm, Monday to Saturday
Free entry
The exhibition continues until 10 September
thesouthasiacollection.co.uk |https://thesouthasiacollection.co.uk/exhibitions/lahore-copper-and-brass
---
This exhibition was launched as part of the Festival of East Anglia & Punjab taking place in venues across Essex, Norfolk and Suffolk 1-10 July 2022. The Festival of East Anglia & Punjab explores the cultural links between the two regions through the story and legacy of Maharajah Duleep Singh and the last royal family of the Punjab, who lived in Norfolk. Read more about the Festival and find out about the full programme at https://essexcdp.com/event/feap/