Back
Maharajah Duleep Singh: Norfolk's Princely Family
Saturday 2 Jul 2022 - Friday 28 Oct 2022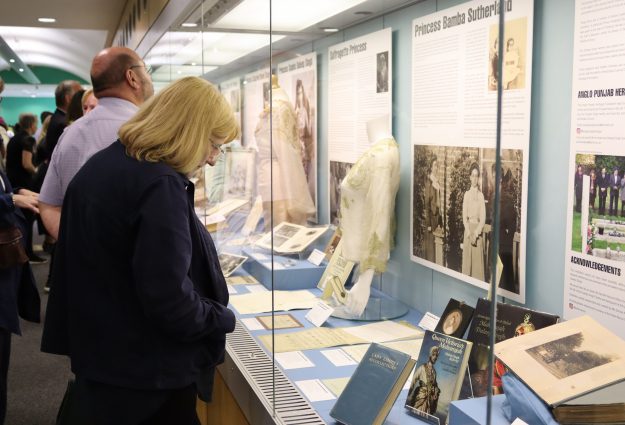 MAHARAJAH DULEEP SINGH: NORFOLK'S PRINCELY FAMILY
An exhibition at Norfolk Record Office
Festival of East Anglia & Punjab
2 July to 28 October 2022
Over 150 years ago the last Emperor of the Punjab, Maharajah Duleep Singh made East Anglia his home when he purchased the Elveden Estate near Thetford on the Norfolk-Suffolk border. For a century his family continued to reside in the region, from Old Buckenham, Hockwold, Blo' Norton, Breckles and Walcot.
The family's legacy is still present today, from the Ancient House Museum, which was donated by Prince Frederick, to the numerous Norfolk churches he saved from closure and restored. He went on to join the Norfolk Yeomanry and later served in the First World War, and even erected War Memorials for those who fell. The Princesses were not only active Suffragists supporting the rights for women to vote but the youngest Sophia, belonged to the renowned Suffragettes, and gave a gift of over 200 portraits of Norfolk worthies to the Town of Thetford from the family collection.
The Archives Centre in Norwich will be holding a three month exhibition on the lives of this extraordinary family, with artefacts and objects loaned from the renowned collection of Peter Bance who has spent 25 years amassing this largely unseen archive which will go on display for the first time. Highlights include the Maharajah's velvet Indian Jacket, Prince Frederick's army uniform, textiles and wearing apparel of the Princesses, the family 's photograph albums and personal intimate letters.
Venue: Norfolk Record Office, The Archive Centre, Martineau Lane, Norwich NR1 2DQ
Open Tuesday-Friday 10am-5pm
Free, no booking required
https://www.archives.norfolk.gov.uk/
---
Images taken during the exhibition launch in July 2022
---
This exhibition was launched as part of the Festival of East Anglia & Punjab taking place in venues across Essex, Norfolk and Suffolk 1-10 July 2022. The Festival of East Anglia & Punjab explores the cultural links between the two regions through the story and legacy of Maharajah Duleep Singh and the last royal family of the Punjab, who lived in Norfolk. Read more about the Festival and find out about the full programme at https://essexcdp.com/event/feap/