Saturday 2 Mar 2019 - Sunday 26 May 2019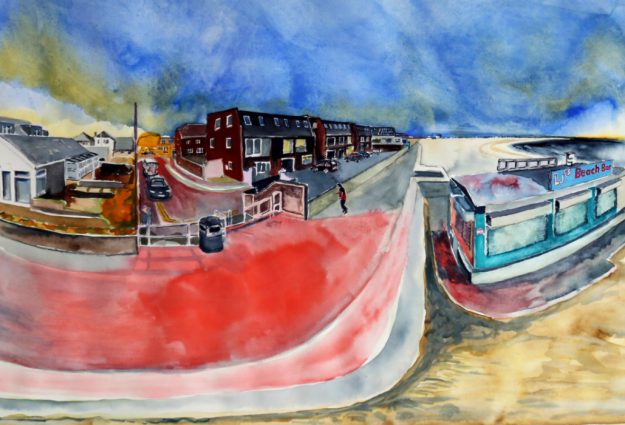 Exhibition and opening event
Days Like These:
Reclaiming the Beauty of Jaywick Sands
All are welcome to this exhibition and opening event, featuring work by Close and Remote and their project participants. Day Like These is commissioned by Essex Cultural Diversity Project, supported by Essex County Council, Jaywick Martello Tower and Tendring District Council.
Exhibition Dates: 2 March – 26 May
Official VIP opening event: Saturday 2 March 12 noon. All welcome. Includes a whole day of activities as part of Essex Book Festival, taking place 11am – 3pm
Exhibiting artists: Close and Remote, Jacqui Barter, Barbara Birley, Sue Carron, Coralina Cattrell, Teresa Dale, Sue Lusher and Kyri Whiston.
Musicians featured on the Virtual Reality Watercolour Journey around Jaywick are Barry Fitzgerald, Craig Garrod, Izabella Allen, Steven Bowers and Simon Lipscombe (all recorded at Jam Night at the Eldo Bar in Jaywick).
Days Like These is an exploration of the beauty of Jaywick Sands by artists Close and Remote (Sophie Mellor and Simon Poulter), using watercolours, sound and virtual reality.
The exhibition features six large scale 360 degree watercolours of Jaywick – including Lotus Way, Jaywick Martello Tower and the sun setting at LJ's Beach Cafe. Close and Remote recorded sound as part of the work, from a range of locations including The Eldo Bar, Jaywick Community Garden, Wonderland Amusement Arcade and the beach. The work is not only a series of watercolour paintings, but can also be viewed as a virtual reality experience on a mobile phone or VR headset.
During their time in Jaywick, Close and Remote engaged closely with the community, and ran a series of watercolour workshops for local residents, getting out and about in Jaywick with paints, paper and easels. Some of the work from the workshop participants also forms part of the exhibition.
More information on the project can be seen at www.closeandremote.net/days-like-these
Venue: 

J

aywick Martello Tower, The Promenade, Belsize Avenue, Jaywick Sands, CO15 2LF

Opening times: March – Weekends only (10.30am – 3.30pm) / April & May – Wednesday to Sunday and bank holiday Mondays (10am – 5pm)
Admission: Children Free, Adults £1, Yearly pass £3 (excludes events)