Back
The Singh Twins: Slaves of Fashion at Firstsite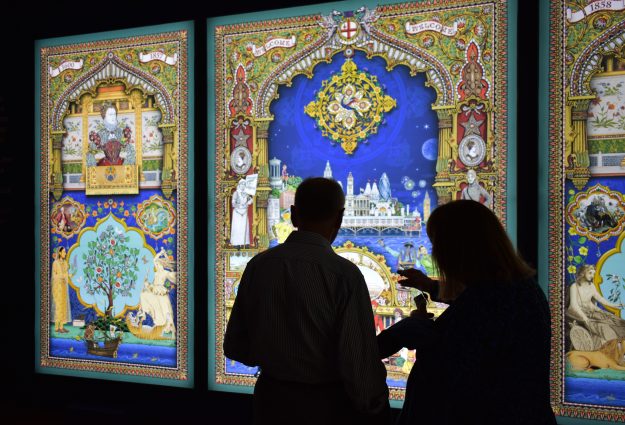 The Singh Twins: Slaves of Fashion is the Summer exhibition at Firstsite, Art Fund Museum of the Year. The show explores narratives around Empire, enslavement, luxury consumerism, and the contemporary relevance of all these issues in our world today, through the colonial history of Indian textiles.
Opening in May 2022 and supported by Essex Cultural Diversity Project, The Singh Twins: Slaves of Fashion showcases artworks by the internationally renowned artists The Singh Twins, which focus on the relationship between Britain and India, hidden details of Europe's colonial past and its legacies, including current debates around ethical trade, responsible consumerism and decolonisation and racism.
Primarily known for their hand-painted work in a modern development of the Indian miniature tradition, The Singh Twins' latest work combines traditional hand-painting techniques with historical archival material and digitally created imagery.
---
Nita Jhummu from ECDP Radio meets The Singh Twins, who share insights into their practice and work at Firstsite.
---
Photos from the opening night (on ECDP's Flickr archive)
Photos from the opening night of The Singh Twins: Slaves of Fashion

The Singh Twins: Slaves of Fashion on ITV News (East of England)
The exhibition features two significant bodies of work from The Singh Twins: Slaves of Fashion series produced over the past five years. Supported by a wealth of material that documents the artists' process from an archive of original historical objects and documents which have inspired the work on display, to original drawings, time lapse video of work in progress and three artist films.
Included are eleven digital fabric artworks displayed on lightboxes, with each one highlighting a different theme relating to India's textile industry. Each work features life-size symbolic portraits of historical figures to reveal the full intricacy of their design and the eclectic, detailed, symbolic and narrative style for which The Singh Twins are renowned.
For example, Indigo: The Colour of India, features an image of the Mughal Queen Mumtaz Mahal wearing jeans, in a detailed life-size portrait that tells the story of Indigo, which was used in India as a fabric dye for thousands of years. Known as 'blue gold' (currency for buying slaves), it was highly valuable and prized for its rich, deep shade and colour-fast qualities. Today, one might associate denims with western fashion, but The Singh Twins challenge that notion, backing it with extensive research and tracing the roots of "Dungaree" (another term for Denims) to "Dongri" village in Mumbai where 16th-century Portuguese sailors had first used the coarse material as pants and popularised them.
The exhibition also explores present-day debates about industry and globalisation, fair labour and equal pay; pollution and climate change; corporate politics and business ethics driven by a number of artworks on paper. The works include instantly recognisable figures such as Donald Trump (Get Your Knee off Our Necks), Boris Johnson and Angela Merkel (Fighting for India 2.0), Theresa May (Colossus of Woes), Tony Blair and George W Bush (Partners in Crime: Deception and Lies).
While each work in the show highlights a different theme relating to the colonial history of India's textile industry, collectively they reveal not only the beauty, and craftsmanship of Indian fabrics, but also the human cost of luxury goods and the global politics of trade past and present.
A version of this exhibition was first seen at the Walker Art Gallery, Liverpool in 2018, but since then the Twins have added more exhibits, including new work made in lockdown as part of Grayson's Art Club. (Channel 4).
The Twins say, "If you care about the environment and you care about human rights, then you should really care about what you put in your shopping basket too, and that's partly what the message of these works is, but it's also about showing how we are all connected through our colonial past and how our understanding of global narratives around Empire can help us to see ourselves and the world around us in a new light."

Sally Shaw MBE, Director of Firstsite says "We're really excited to be able to host this vast, colourful exhibition from The Singh Twins that poses such important questions about equity, sustainability and the climate crisis. This exhibition offers us an opportunity to explore wider societal issues through art and we are hoping this show will fire the imagination, raise awareness of hidden histories and help us all think creatively about how we as a community can address these issues."

The exhibition is supported by the Essex Cultural Diversity Project (ECDP), Indi Sandhu ECDP Creative Director and CEO says, "This is an excellent opportunity to showcase the work of internationally renowned artists The Singh Twins at Firstsite. Their artwork focuses on key issues facing our world today and highlights the need for change. ECDP have developed a strong partnership with Firstsite over the years and through this exhibition we are keen to develop a more collaborative approach for joint working.''
For more information follow @firstsite on Twitter, @firstsitecolchester on Instagram, like the Firstsite Colchester Facebook page or visit firstsite.uk
---
About the Singh Twins
The Singh Twins are internationally renowned, contemporary British artists whose award-winning work explores important issues of social political and cultural debate and re-defines narrow Eurocentric perceptions of art, heritage and identity. The Twins – collaborate on their art, describing their creative practice as 'Past-Modern' as opposed to 'Post Modern'. Their highly decorative, narrative and symbolic work which they developed in response to what they refer to as the cultural prejudice they experienced as art students has been recognised as pioneering a modern revival of Indian miniature painting within contemporary art practice. But their distinctive style is much more eclectic – drawing on the artistic language and conventions of other global artistic traditions, east and west, old and new and incorporating different creative digital practices and mediums. Among the recognition they have received for their contribution to art over the years, The Singh Twins have been awarded an MBE and three Honorary Doctorates.  More at www.singhtwins.co.uk
---
About Firstsite
Firstsite is a public contemporary art gallery in Colchester, making and showing exceptional art and culture that celebrates the diverse and radical people of East Anglia in order to empower all communities to be creative together and lead healthier and happier lives. In 2021, Firstsite celebrated the 10th anniversary of its spectacular crescent-shaped building, designed by award-winning Uruguayan architect Rafael Viñoly, with a year of celebration projects and commissions – which kicked off with The Great Big Art Exhibition. Over the last ten years Firstsite has gained a strong, critical reputation, presenting ambitious work to be enjoyed by all in a fun and inclusive environment – culminating in it being named the prestigious 'Art Fund Museum of the Year' in 2021. Firstsite is a partner of Plus Tate, which uses Tate's resources to contribute to a network of art organisations across the country, and to increase public access. Firstsite's exhibitions are free and open to anyone. Follow us on Twitter & Facebook @firstsite and Instagram @firstsitecolchester and subscribe to our YouTube channel 'Firstsite gallery'