Back
Nita meets Artist EVEWRIGHT
ECDP Radio features interviews with a range of diverse artists, arts organisations and past and present projects, presented by Nita Jhummu. In this episode, Nita interviews Artist EVEWRIGHT. They talk about Coronavirus, family and dealing with grief during lockdown, and EVEWRIGHT's work inspired by the Windrush generation.
EVEWRIGHT's work Mother's Touch was shown as part of Art For Life exhibition at Firstsite in Colchester in 2021, that focused on key workers and the pandemic.
---
About EVEWRIGHT

Everton Wright (EVEWRIGHT) is a British artist, with parentage from Jamaica. His work is a conscious 'mash up' of drawing, sculpture, combined with digital film and live installations. EVEWRIGHT's work explores the intricate connections between the body and our experience of the modern environment, and he communicates this through bold interactive art, also using urban and rural landscapes as his canvas.
EVEWRIGHT studied graphic design at Middlesex University, received a first class degree and continued on to train as an artist in mixed media painting at Central St Martins College of Art, where he did his foundation. He also trained in film and video production at Four Corners London.
With a professional background in commercial graphic design, EVEWRIGHT is also an award-winning creative director, responsible for creating iconic imagery. However, art has since become his focus and EVEWRIGHT has participated in several group and solo exhibitions including: Royal Academy of Arts Exhibition, London, Jeanne Kahn Gallery 2012 and Porters Gallery 2014. Trinidad and Tobago Film Festival, Medulla Art Gallery, Port of Spain, Trinidad and Tobago, 2013, Nominated for the Young Masters Art prize 2014. ELECTRONICS ALIVE VIII Biennial, Tampa Florida USA 2015, Ripon Cathedral. Great North Art Show 2015, Guildhall Gallery. No Colour Bar Exhibition 2015. BFI British Film Institute. Firstsite gallery Britishness exhibition 2018, Caribbean Takeaway Takeover 2018. Migration Museum London 2019. V&A Friday Night Late. July2019.
---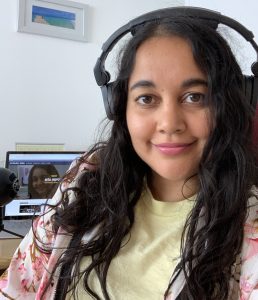 About Nita Jhummu
Nita Jhummu is an award-winning radio broadcaster having won "Presenter of the Year" at the HBA National Hospital Radio Awards in Bolton in 2017, as part of the Hospital Radio Chelmsford team. She currently presents popular show, "City Talk" on Monday nights on Chelmsford Community Radio (CCR 104.4FM) and has a real passion for radio – be that talk shows or feel-good music.
Aside from radio broadcasting, Nita has a background in financial services and data analytics. Nita is a graduate of the London School of Economics and having worked for prestigious companies such as Citibank, Deloitte and Lloyds Banking Group, Nita is now working for a specialist lender who focus on niche mortgages, development, construction and asset finance.
Nita is from Brentwood and her heritage is from Mauritius. Her parents were instrumental in setting up the Essex Hindu Dharma Society which was a group set up in Brentwood in the 1990s and is still going strong today from it's base in Witham. Nita's favourite foods are her Mum's dholl puri and her Dad's rougaille – both yummy traditional Mauritian foods.
Nita is looking forward to joining the Essex Cultural Diversity Project and presenting for ECDP Radio!
---