Back
The Singh Twins: Slaves of Fashion in Norwich
Saturday 1 Oct 2022 - Sunday 22 Jan 2023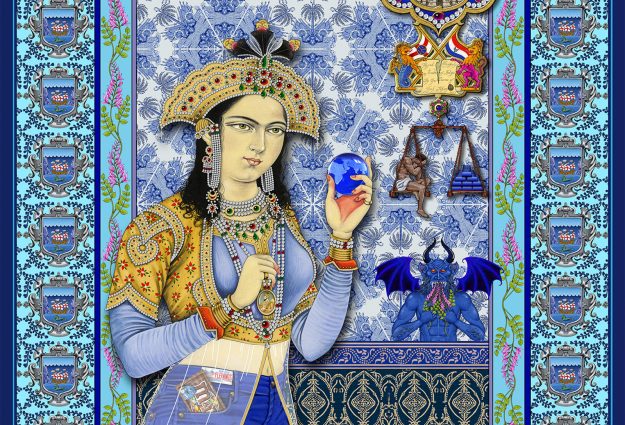 The Singh Twins: Slaves of Fashion exhibition at Norwich Castle and East Gallery, explores how the history of Indian textiles is a global story of Empire, conflict, enslavement and luxury lifestyle which has contemporary relevance – connecting to ethical trade, consumerism and attitudes to race in the world today.
Included in the exhibition are eleven striking, highly detailed and symbolic digital mixed medium portraits printed on fabric and displayed as lightboxes. Collectively they reveal not only the beauty, renown and craftsmanship of Indian fabrics but also their political, social and cultural significance as a commodity connected to complex narratives of colonial history.
Original mixed media artworks sit alongside historical objects from the castle's own collection and a brand-new commission, which will go on permanent display at Norwich Castle after the exhibition.
Also included are artist films, as well as smaller drawings, paintings and archival material offering insights into the Twins' creative thinking and processes.
Image credit: Indigo: The Colour of India © The Singh Twins
Norwich Castle Museum and Art Gallery
Castle Hill, Norwich NR1 3JU
Open: Mon-Sat 10am – 4.30pm, Sun 1-4.30pm
Admission prices apply (see website for more details)
Book your tickets in advance online or in person at Norwich Castle.
East Gallery, Norwich University of the Arts
Cavendish House, St Andrews Street, Norwich NR2 4AE
Open: Tue-Fri 12-5pm, Sat 12-4pm
---
Nita Jhummu from ECDP Radio meets The Singh Twins, who share insights into their practice and The Slaves of Fashion exhibition.
---
More about the exhibition at the Walker Art Gallery in Liverpool:
---
Photos from the opening night of Slaves of Fashion at Firstsite, Colchester (on ECDP's Flickr archive):
---
About the Singh Twins
The Singh Twins' British-Asian heritage has played a significant role in influencing their work, and they are widely known for pioneering a modern development of the Indian miniature tradition within contemporary art practice. Inspired by Eastern and Western artforms, the Twins' use artistic language from centuries ago to address a range of modern, social and political themes through a combination of hand-painted and digital techniques. At the heart of their work lies the desire to challenge narrow perceptions of heritage, culture and identity and show a more balanced representation and understanding of the past can influence how we relate to the present.