Back
ECDP Radio: Nita visits The Human Library
In this episode of ECDP Radio, Nita Jhummu visits The Human Library, interviewing 'Books' and 'Readers' about their experience.
Just like in a real library, a visitor to The Human Library can borrow a book from a range of titles. The difference is that books are PEOPLE, and reading is a CONVERSATION. Nita interviews Katy Jon Went from the Human Library Organisation UK, chats with Human Books entitled 'Jewish', 'Abuse Survivor', 'Brain Injury' and 'Witch'. She interviews readers, and shares her own experience of reading a Human Book.
Nita attended The Human Library in Colchester in June 2022, organised by Essex Cultural Diversity Project as part of Essex Book Festival 2022, in partnership with The Human Library Organisation UK. It was supported through Colchester Borough Council's Cultural and Creative Events Fund and hosted by the Mercury Theatre.
---
More about The Human Library in Colchester
---
About ECDP Radio
ECDP RADIO compliments our recently launched ECDP TV, which features a range of new content related to our work across Essex and the East Region, housed on our website, YouTube and other online channels. We also work in partnership with BBC Essex, appearing regularly on Essex Voices, their weekly radio programme that focuses on community.
"ECDP RADIO is an exciting opportunity for us to create new digital content for our online platforms, allowing us to engage and keep connected with our audiences. It builds on our bank of digital experiences created during the coronavirus lockdown, which will have a long lasting legacy for all to enjoy" Indi Sandhu, ECDP Creative Director.
ECDP Radio with Nita Jhummu was shortlisted for the 2021 Community Radio Awards, in the best podcast category. We were delighted to make the shortlist, whittled down from more than 430 entries from every corner of the UK. Winners were revealed in a ceremony at the Coventry Transport Museum, in partnership with Coventry UK City of Culture in October, which was attended by Indi Sandhu, ECDP's Creative Director & CEO, and broadcaster Nita Jhummu. The nomination and recognition was a great achievement. Congratulations to the winners and to all those nominated.
---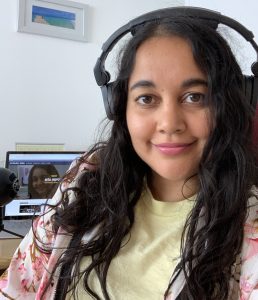 About Nita Jhummu
Nita Jhummu is an award-winning radio broadcaster having won "Presenter of the Year" at the HBA National Hospital Radio Awards in Bolton in 2017, as part of the Hospital Radio Chelmsford team. She currently presents popular show, "City Talk" on Monday nights on Chelmsford Community Radio (CCR 104.4FM) and has a real passion for radio – be that talk shows or feel-good music. Nita is from Brentwood and her heritage is from Mauritius. Her parents were instrumental in setting up the Essex Hindu Dharma Society which was a group set up in Brentwood in the 1990s and is still going strong today from it's base in Witham. Nita's favourite foods are her Mum's dholl puri and her Dad's rougaille – both yummy traditional Mauritian foods.
---